Singapore growth exceeds estimates in fourth quarter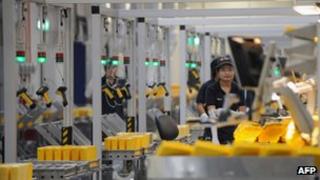 Singapore's economy expanded more than expected in the fourth quarter, boosted by the manufacturing sector.
The economy grew by 1.5% in the three months to the end of December, from a year earlier. Initial estimates were for growth of around 1.1%.
On a quarter-on-quarter basis, the economy grew 3.3%, beating initial estimates of 1.8%.
A slump in its manufacturing sector due to the global slowdown has hurt Singapore's growth in recent years.
However, according to the latest data from the Ministry of Trade and Industry, the sector expanded by an annualised rate of 3.1% in the October to December period, compared with the previous three months.
That compares with a 16.6% contraction in the previous quarter.
The ministry said the rebound was helped by growth in the biomedical manufacturing and transport engineering sectors, which helped offset a decline in the output of the electronics sector.
'Cautiously positive'
However, the government kept its growth forecast for 2013 unchanged at between 1% and 3%.
It said that while there had been recent signs of improvement, the global economic conditions remained fragile.
The ministry said it was concerned that the strength of the economic recovery in the US may be restrained by fiscal tightening.
It added that the ongoing debt crisis and the high levels of unemployment in the eurozone were likely to weigh down growth in that region.
At the same time it forecast growth in Asia would be moderate, supported by resilient domestic demand and a modest growth in external demand.
"Against this macroeconomic backdrop, the outlook for the Singapore economy remains cautiously positive," the ministry said.
However, it cautioned that if the economic situation in the US or eurozone deteriorated, Singapore's economic growth "could come in lower than expected".