Bumi: Rothschild defeated in battle to oust board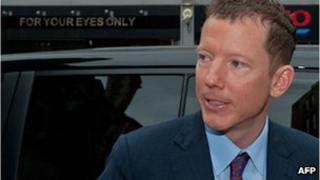 Financier Nathaniel Rothschild has lost his bid to oust the current board of coal mining giant Bumi, the company he helped to found.
Chairman Samin Tan survived a vote to remove him but informed the board he was stepping down.
Mr Rothschild had wanted to rejoin the company and expel 12 of the 14 board members, including the chief executive and chairman.
Shareholders rejected his attempts and voted to remove just two members.
Chief executive Nick von Schirnding also managed to keep his post, with more than 60% of votes cast in his favour at the London meeting.
Mr Tan, who received 57% of votes in favour of his retention, said he would resign once a new independent chairman was found.
The company said it would look for a new chairman "who has experience in, and is familiar to, the London market", according to a statement.
The two members who were ousted were Jean-Marc Mizrahi and Nalinkant Rathod.
Mr Rothschild set up Bumi with the influential Bakrie family, part of Indonesia's political and business elite, in 2011.
The deal was intended to offer international investors the chance to buy into natural resources assets in emerging markets while ensuring they were protected by UK market rules.
Fraud allegations
But the partnership, and relations with the Bakrie family, soured after Mr Rothschild called for a radical clean-up at the firm.
To make matters worse, he made allegations of potential misuse of development funds and other assets at the firm in September 2012.
Allegations of financial irregularities at Bumi's key Indonesian operating subsidiary, PT Bumi Resources - in which it owns 29% alongside the Bakrie family - first emerged that month, after Mr Rothschild received information from a whistleblower.
However, an investigation by legal firm Macfarlanes, commissioned by the London-listed parent company, said the evidence provided to Mr Rothschild comprised emails that had been obtained illegally, something Mr Rothschild denies.
Macfarlane said the claims that money intended to finance development of coal mines had been misappropriated could not be substantiated, in large part due to "the unwillingness of key parties to be interviewed and provide information".
Bumi's management said that it had referred the matter to the relevant authorities, including the Indonesian financial services authority, and the UK Serious Fraud Office.
Mr Rothschild quit the board in October.
Bumi's new chief executive, Mr Schirnding, has negotiated an amicable divorce with the Bakrie family, including the sale of the family's stake in PT Bumi Resources for $580m (£370m), and the family's divestment of its 24% in the London-listed company.
But the board warned that the deal would be scuppered if Mr Rothschild succeeded in retaking control of the company.
The company's share price has slumped 60% since it listed in 2011.