Italy dominates ECB government bond holdings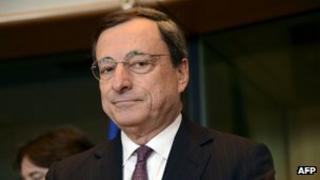 The European Central Bank has revealed that Italian government bonds make up nearly half of its holdings under a bond-buying plan.
Italian bonds with a book value of 99bn euros (£86bn; $131bn) account for the biggest holding under the now ended Securities Market Programme.
The plan, which lasted from 2010-2012, was intended to ease the debt crisis by reducing government borrowing costs.
The ECB replaced it with a similar, yet bolder, scheme last September.
Spanish bonds, with a face value of 43.7bn euros, make up the second biggest holding, said a statement.
The central bank also holds Greek bonds with a book value of 30.8bn euros, Portuguese bonds worth 21.6bn euros, and Irish bonds 13.6bn euros.
This is the first time the ECB has released previously confidential figures as part of efforts to increase transparency.
The ECB stopped the bond-buying scheme last year, replacing it with another similar programme - the Outright Monetary Transaction (OMT) - as part of a pledge by ECB President Mario Draghi to do "whatever it takes" to prevent the break-up of the 17-member euro area.
The OMT, unlike its predecessor, has no size limit and will only buy debt of short-term maturity, three years or less.
It is to be carried out in conjunction with the European Financial Stability Facility or European Stability Mechanism programmes and countries need to request a bailout before they are triggered.