Credit reports: Lenders gathering more personal data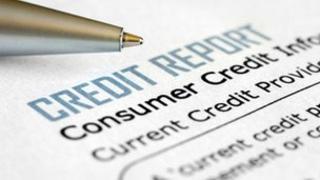 Growing amounts of detail about individuals' financial lives are being used to judge whether applicants are given loans and mortgages.
Yorkshire Water has become the first water supplier to share information on customers' payment habits with credit reference firm Experian.
Firms such as Experian use this data to build up people's credit histories.
Now they are seeking agreement with more utility and energy firms on whether customers pay bills on time.
This history is then put into a credit report which is used by lenders to decide whether loan applicants are likely to make repayments in the future and whether they are a safe bet to lend money to.
Loan applications
The three credit reference agencies in the UK are Experian, Equifax and Callcredit. They use a range of data, from the register of voters to credit card payments, to build up reports on individuals. Everyone has the statutory right to see their report, usually for a £2 fee.
In a report, the credit history lists credit accounts, the date they were opened, the credit limit or loan amount, and whether the individual has missed any payments. Account details from after 1994 are included, and remain on a report for six years after being closed.
These agencies are continually trying to increase the amount of detail these reports hold, to allow lenders to make a more considered decision on loan applications.
There is no "blacklist" of people who will not be given credit - each lender analyses the information according to its own rules, so applicants may be turned down by one company but accepted by another.
'Treated fairly'
Information about credit cards, bank accounts and mobile phone contracts is regularly shared with these agencies.
Some water and energy companies already tell credit reference agencies whether customers miss paying, or are late paying, bills more than three times.
Now Yorkshire Water is sharing key data about all of its five million customers with Experian - whether they have paid bills on time or not.
"By sharing information on all customers, including those who may be experiencing difficulties, it will not only reduce bad debt but ensure that customers are treated fairly and responsibly," said Paul Vescovi of Experian.
"Of course, because the vast majority of people pay their water bills on time, most Yorkshire Water customers will see their credit histories strengthened by this development, potentially giving their credit ratings a helpful boost."
Jonathan Harding of Yorkshire Water said that in return, the company would receive an early warning about customers who might potentially get into financial difficulty.
New access
James Jones of Experian said that the agency was seeking deals with other providers in the water industry and elsewhere.
This included the energy sector, as well as companies that provided landline telephone and television contracts.
He said that people who wanted to build up a credit history quite quickly would benefit from increased information, such as people moving into the UK after some time overseas and who wanted to apply for credit in the near future.
Equifax said it shared information with certain water companies. The water firms, including Severn Trent, sent details of those who regularly defaulted on bills, which lenders could then see in the credit report.
It stressed that a considerable amount of detail was not included in a credit report, including student loans, savings accounts and medical records.
However, Ray Boulger, of mortgage broker John Charcol, called for more "positive" information to be included on credit reports. For example, details of a savings account could build a picture of somebody who had successfully put money aside on a regular basis.
"Part of the problem with credit scoring is that it does not take into account enough good information," he said.
Sometimes, he argued, this was trumped by missed credit repayments in the past.
Graham Lund, managing director at Callcredit, said: "We do work with a number of utilities companies, such as telecoms and energy suppliers, who share data with us.
"We believe that there is potential for the sharing of account performance data from utilities companies to have a positive effect on a consumers credit file. This could help to provide some people with better access to mainstream, lower-cost credit facilities and services.
"The sharing of data enables lenders to make informed decisions and supports responsible lending; we therefore anticipate and welcome future growth in this area."