Living like David Beckham on £14,000 a night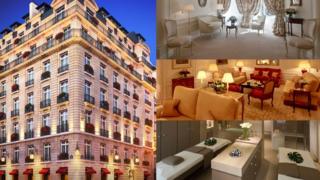 Having demonstrated his ability to say "bonjour" at press conferences, David Beckham will at least be able to greet his personal butler.
But thereafter advanced linguistic skills may not be essential, because pretty much everything at Le Bristol hotel in Paris will be done for him.
The Imperial Suite stretches more than 320 sq m (3,440 sq ft) and contains his own dining room, three bedrooms, a large dressing room and a huge bathroom of pink marble, complete with his and hers wash basins.
In all, enough space to entertain a dozen guests. And if you have to ask the price, it's around £14,000 a night.
Possibly £500 less when the pound is having a good day.
Five-and-a-half bathrooms
Mr Beckham is staying in Paris after deciding to join Paris St-Germain for six months - and he is rich enough that he is playing for free while he's there.
So what do you get for a world-famous footballer's money in the UK? And if you are looking for something a shade cheaper, where can you find a bargain?
The priciest hotel suite we could find in London is at the Lanesborough, on Hyde Park Corner.
"A residence befitting royalty and visiting heads of state. For the most discerning guests," boasts the website.
Here you will be able to relax in four bedrooms, and, especially indulgently, five-and-a-half bathrooms. There is a laptop in each room, a full-time butler, and a chauffeur who comes with his own Rolls Royce Phantom.
That'll be £18,000 a night, sir. But don't worry, that includes VAT.
Breakfast not included
More modestly, the Ritz offers two suites in an 18th century house attached to the main hotel, and overlooking Green Park.
You will be brought here by the hotel's customised Rolls Royce. (Typically clients will have landed by private jet at Northolt.)
As we enter the Royal Suite, my guide purrs discreetly: "Anything that glitters in here is actually gold."
He is referring to the 23.9 karat gold leaf on the ceiling and chandeliers "handcrafted by the Ritz's resident gilder", he adds.
The champagne chilling in the bucket is from the hotel's own vineyard, and of course the butler will always be on hand to pour it. The price here is £8,000 a night, or £10,200 a night for the Prince of Wales suite above.
"No sir, that doesn't include breakfast," my guide adds.
Value for money
But experts insist that's still good value for the price.
"It is all about a personalised service," says Simon Numphud of the AA hotel guide.
"If guests have got a favourite mineral water or wine, they'll stock that. Likewise with magazines and newspapers. They'll provide all of those extra niceties."
He points out that many of these suites have 3,500 sq ft of space. That is ten times the amount in a standard 5-star hotel.
While Simon Numphud says the 5-star hotel market in the UK is booming, so too are the budget hotels springing up on roadsides and now on industrial estates all across the country.
The largest operator, Premier Inn, offers rooms from £29 a night outside London.
Travelodge says it offers rooms from as little as £19.
And Best Western is currently advertising a night for two near Tamworth for £39 a room.
Bargains
Travellers would do well to remember that advertised rates are only that. They are, in effect, the price the hotel would like in an ideal world.
Off the record, one top hotel admitted to the BBC that the rooms market is "based on supply and demand". In other words, they will often by happy to take much less than the rate they advertise.
"Sometimes they're busy, sometimes they're not very full," says Martin Couchman of the British Hospitality Association. "If they're not very full you may be able to do a deal, or you may be able to get dinner at a reduced rate, or breakfast might be included for example."
If you want a 5-star experience, but don't want to pay for an expensive bedroom, he also recommends using the hotel facilities but not actually staying there.
"You could have afternoon tea or dinner, or use the spa facilities perhaps."
Or perhaps you could make use of a suite that's temporarily unoccupied.
After all, there is one in Paris that is likely to be vacant whenever Paris St-Germain are playing away from home.