CML: Mortgage lending at lowest level since April 2012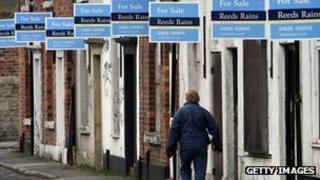 The amount of money being lent to UK homebuyers fell last month, according to figures from the Council of Mortgage Lenders (CML).
New mortgage lending amounted to £10.4bn in January, the lowest figure since April 2012.
It represents a fall of 9% compared with December, and a 3% fall compared with January 2012.
But the CML said that sentiment was still positive and it expected matters to improve over the coming months.
The news will be seen as a setback, following recent figures from the Bank of England and the Office for National Statistics (ONS) suggesting that the housing market was beginning to pick up.
Loans boost
The CML said it was worried that rising inflation would make it harder for people to afford to take out a new mortgage.
"But we still expect the Funding for Lending scheme to lift activity over coming months," said Caroline Purdey of the CML.
Funding for Lending (FLS) was launched last August and aims to provide up to £60bn to banks and building societies, on condition they lend it out to their customers.
Last month, the Bank of England reported that the FLS was beginning to increase the flow of loans to customers.
As a result, some experts had expected the latest lending figures to be better.
"At face value, these figures are surprising, especially given the lower rates on offer and the boost from the Funding for Lending Scheme," said Ashley Brown of the mortgage broker Moneysprite.
But he, too, is optimistic about the months ahead.
"While the January figures are down, there is plenty of activity in the market, and this should feed through to more positive figures in the coming months," he said.
Falling prices
A number of banks and building societies have already cut loan rates as a result of FLS. Skipton, the UK's fourth-largest building society, announced on Wednesday that it was cutting mortgage rates by up to 0.3%.
But to benefit from the full reduction, borrowers will need a 30% deposit and will have to pay £1,000 in fees.
And elsewhere, Funding for Lending is not yet filtering through.
A new survey of house prices in Wales suggests £2,000 has been wiped off the price of an average Welsh house in the last 12 months.
The house price index, produced by LSL Property Services and the consultancy Acadametrics, suggests prices in parts of Wales fell by more than 8% over the last year and have continued to fall in the last month.
"The rise in lending due to the Funding for Lending scheme has been slow to feed through into Wales, as the economy is weaker than in England," said Olive Blake of Reeds Rains estate agents.
"All of the gains made during autumn have fizzled out," he added.