Credit Agricole reports record loss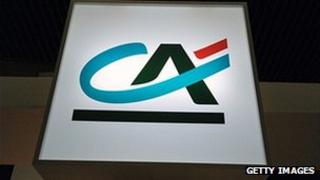 French bank Credit Agricole has reported a record loss for 2012 after an unexpected tax charge relating to the sale of its Greek business pushed it deeper into the red.
Losses for last year totalled 6.5bn euros ($8.7bn; £5.6bn).
The worsening economic downturn also led to losses at the bank's Italian and investment banking divisions.
The bank is now planning a three-year turnaround plan to try to revive its fortunes.
Credit Agricole sold Emporiki Bank for one euro at the end of 2012 as a result of the Greek economic crisis. However, unexpected taxes of 838m euros related to the sale meant that Credit Agricole's full-year loss was larger than expected.
Earlier this month, the bank said it had taken a big writedown on the value of its assets - including those in Portugal and Italy - to reflect the worsening eurozone economy and new tighter regulations.
"In 2012, we turned the page and profoundly transformed the group," said chief executive Jean-Paul Chifflet.
"Leaving Greece cost us dearly, but it was a necessary decision," he added.
On the bank's new business plan, Mr Chifflet said: "There will be two main priorities governing the undertaking: the acceleration of improvements to our universal customer-focused bank and a deepening of changes that we've already begun on specialised financial services."
Credit Agricole is a semi co-operative bank, controlled by 39 regional French banks.
Shares in the bank are up about 5% to 7.7 euros.
"Things are looking up from here on. Now that they've got rid of Greece, they're coming back to being a plain retail business," said John Raymond, banking analyst at the research provider CreditSights.