Novartis scraps payout to departing boss Daniel Vasella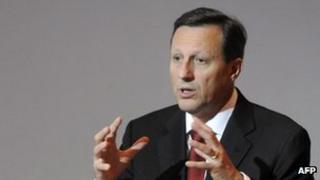 Swiss drugs company Novartis has agreed with its departing chairman Daniel Vasella to scrap a scheme that could have paid him 72m Swiss francs ($78m; £50m) over the next six years.
The announcement followed a campaign by some of the company's shareholders and criticism from Swiss politicians.
Novartis had said the payment was to persuade Mr Vasella not to work for its competitors or pass on any information to them.
He will be stepping down on Friday.
"I have understood that many people in Switzerland find the amount of the compensation linked to the non-compete agreement unreasonably high, despite the fact I had announced my intention to make the net amount available for philanthropic activities," Mr Vasella said.
"That is why I have recommended to the board that I forgo all payments linked to the non-compete agreement."
'Enormous damage'
Mr Vasella was chief executive of Novartis from 1996 until 2010, and has also been chairman since 1999.
His pay-off has been at the centre of debate ahead of a 3 March referendum on whether to give shareholders more power to rein in executive pay.
"This self-serve mentality undermines confidence in the economy as a whole," Justice Minister Simonetta Sommaruga told the Swiss newspaper Sonntagsblick.
"It causes enormous damage to the social cohesion in our country."
Roby Tschopp, head of shareholder group Actares, had described the pay-off as "scandalous".
Mr Vasella is due to step down after the company's annual shareholders' meeting on 22 February.
Pascal Gentinetta, head of the business lobbying group Economiesuisse, had said news of the payments to Mr Vasella had been a tough setback for his campaign for a "no" vote in the referendum.