Mobile phones 'to replace debit and credit cards'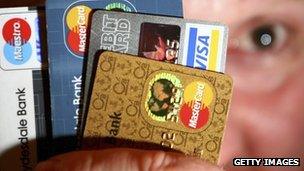 The use of debit and credit cards could be in decline within eight years, according to the UK Payments Council.
It is predicting that more and more of us will use mobile phones to make payments and that by 2021, fewer of us will be using plastic.
"The 2000s were the decade of the debit card," said Adrian Kamellard, chief executive of the Payments Council.
"The 2010s are likely to be the decade of the mobile phone."
Payment by mobile phone is still at an embryonic stage, but the technology is being developed so that most bank account holders will be able to pay by phone within a year or so.
Barclays launched a scheme called "pingit" last year, which enables people to pay another person via their phone.
But the Payments Council is working on a cross-industry scheme, which will cover 90% of bank accounts. It is due to be launched in the spring of 2014.
As a result, the council forecasts that there may soon be no need for wallets and purses.
"It is easy to imagine a future where we merely pat our pockets for our keys and phone," said Mr Kamellard.
"The wallet could become a historical curiosity."
The way that we pay for things has changed markedly in the last decade.
The use of cheques continues to fall, halving every five years.
And we use cash much less than we used to.
In 2001, 43% of our shopping was paid for in notes and change. By 2011, that had fallen to 30%. Most of that is accounted for by very small payments, for less than £5.
But not everyone thinks the use of cash will continue to decline.
Ron Delnevo founded Bank Machine, which installed the first independent ATM in the UK in 1998.
He argues that it still represents the cheapest form of payment for millions of people around the world.
"Cash has been around for 2,500 years. Even in our fast-changing world, it is still the payment method used for 80% of all transactions around the planet," he said.
"Notes circulate with few, if any, administrative overheads."
The report from the UK Payments Council has also identified big changes in where we spend our money, as well as the methods used to pay.
Unsurprisingly, supermarkets take a much larger share of our money than they used to. For every pound we spend on the high street, 58p goes to a supermarket. That compares with 46p a decade ago.
We now spend more on housing than we used to and much more on entertainment.
The amount we spend in restaurants and cafes has doubled since 2001, and we spend 63% more going to the cinema or a show.
The internet takes more of our money and we pay more for subscription television.
However, there are big losers too.
We are not spending so much on trade union membership or catalogue shopping. Pubs and bars have also lost out in real terms, as spending on drinks has risen by less than the rate of inflation.
Related Internet Links
The BBC is not responsible for the content of external sites.