Thailand economic recovery picks pace in fourth quarter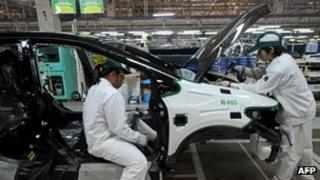 Thailand's economic growth exceeded expectations in the last three months of 2012 as it continued to recover from the previous year's devastating floods.
Gross domestic product surged 18.9% in the October-December period, from a year earlier. Most analysts had forecast a figure close to 15%.
Compared with the previous quarter, the economy grew by 3.6%.
Analysts said the data may lessen the pressure on the central bank to ease its monetary policies to spur growth.
"Overall, the Thailand economy is in a pretty good shape right now," Rahul Bajoria, an economist with Barclays Capital told the BBC.
"It is unlikely that the central bank will cut rates anytime soon. The numbers clearly indicate that there is no urgent need to do that."
Inflation concerns
The floods in Thailand had an impact on some of the biggest industrial areas and resulted in many factories being shut.
That hurt Thailand's exports, one of the biggest drivers of its economic growth.
To make matters worse, a slowdown in demand from key global markets also hurt the export sector.
As a result, Thailand's government implemented various steps to help stoke domestic demand in an attempt to offset the decline in exports and sustain growth in the economy.
It raised minimum wages in various parts of the country, in some areas by as much as 40%.
The government also announced plans to spend 2tn Thai baht ($65bn; £40bn) on infrastructure projects after the devastating floods.
For its part, Thailand's central bank, the Bank of Thailand, cut interest rates in October last year, bringing down its key rate to 2.75% from 3%.
Analysts said that given the strong domestic demand and increased government spending, a rise in consumer prices remained a concern and may prompt the central bank to keep rates on hold in the short term.
"Domestic demand momentum is certainly picking up and this will spill over into 2013," said Eugene Leow of DBS Bank.
"The focus will likely turn towards inflation, especially considering the robust growth numbers."