Jack Lew urges US to avoid spending cuts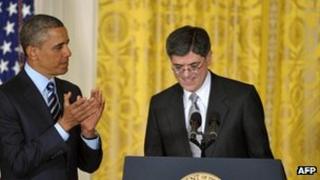 The expected next US Treasury Secretary has urged the country's politicians not to allow automatic spending cuts to come into effect at the end of the month.
Jack Lew, the White House Chief of Staff, has been nominated by US President Barack Obama.
At his Senate hearing, Mr Lew said the $85bn (£55bn) in cuts imposed "self-inflicted wounds to the recovery".
If confirmed, the 57-year-old Mr Lew will replace Timothy Geithner.
The automatic spending cuts were originally set to take place on 1 January, before Congress passed a last-minute deal to prevent tax rises on most Americans and delay the cuts for two months.
Known as the sequester, the cuts would suck away $85bn of spending from the US economy in one year, split between defence and domestic programmes, with a total of $1.2tn reductions until 2022.
Mr Lew said the sequester would "put far too many jobs and businesses at risk".
The deadline for a deal on the cuts is 1 March.
'Resilient to headwinds'
In his testimony, he added: "Our top priority is to strengthen the recovery by fostering private sector job creation and economic growth at a time when we must make sure our economy remains resilient to headwinds from beyond our shores.
"At the same time, we must put our nation back on a path of fiscal sustainability. Over the past two years, we have locked in $2.5tn in deficit reduction through spending cuts and revenue increases."
Speaking of the financial crisis of 2008, just as Mr Obama was elected and poised to take office, he said that the president "moved quickly to break the back of the financial crisis and reignite growth, and because he, along with Congress, responded with great speed and force, our economy is in better shape today".
Mr Lew is due to take up his post amid tense negotiations between the White House and congressional Republicans.
In addition to the sequester, debates are brewing over the government's borrowing limit - known as the debt ceiling - as well as government spending cuts, and other fiscal matters.
The US Congress has voted to extend the nation's borrowing limit until the middle of May. Otherwise it would have reached its $16.4tn debt limit in late February or March.