Blockbuster to close 164 more UK stores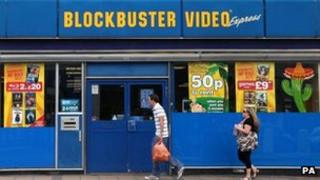 DVD rental firm Blockbuster is to close a further 164 stores, its administrators Deloitte have announced.
About 800 staff in the affected stores will face redundancy.
The closing stores will remain open for business as usual and customers will be given advance notice of closure so that they can return items beforehand.
Blockbuster UK went into administration last month after struggling against online competitors, and has already said that 160 stores would close.
There were 528 Blockbuster stores when it went into administration; 204 now remain.
Deloitte said it was still trying to find a buyer for the remainder of the business.
"We have continued to review the performance of individual stores since our appointment a month ago and have concluded that further closures are necessary in order to restructure the company for sale," Lee Manning, joint administrator at Deloitte, said.
"We are in discussions with a number of parties interested in purchasing all or parts of the business and will update on progress in due course."
The UK High Street is going through a torrid time with several big names going into administration.
Fashion chain Republic became the latest on Wednesday, appointing accountants from Ernst & Young to take over the running of the firm.
Camera chain Jessops has gone under, music and DVD group HMV has closed 66 stores, while electrical chain Comet closed its doors for the last time before Christmas.