Pensions cash 'predators' warning from regulator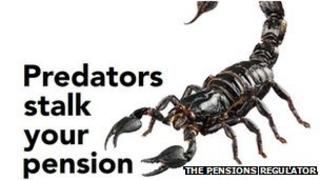 Consumers are being warned against "predators" who entice them to cash in their pension fund before retirement.
Pension liberation schemes encourage people to access their pension savings before the age of 55.
But a campaign, launched on Thursday, highlights the high tax charges and fees that can erode the pension pot of anyone who signs up.
The Pensions Regulator said up to 70% of funds can go to the tax authority, and schemes may charge high fees.
This is because pension saving is tax privileged, under the proviso that the funds are not touched until the saver reaches the age of 55 at least.
So, by drawing on these funds early, HM Revenue and Customs (HMRC) will take a significant chunk of the funds.
"Tax relief is given on pension savings to encourage individuals to save for the long-term to provide them with an income in retirement," said HMRC's head of pensions business, Graeme Hood.
"HMRC is committed to ensuring savings built up with the benefit of generous tax reliefs are not misused."
Spam texts
The operators of pension liberation schemes tend to work in the grey areas of the law, according to the regulator.
Introducers to the schemes, or advisers, use text messages, cold calls, or website promotions to encourage people to access their "frozen" pension.
They might suggest that people take a loan from the scheme provider, secured on their pension funds. Alternatively, the money might be transferred from the pension scheme into risky, unregulated investments often based overseas, the regulator said.
The scheme operators take a fee of 10% to 20% of the amount transferred.
"The pensions industry needs to do what it can to protect members from these offers," said Bill Galvin, the Pensions Regulator's chief executive.
"There can be a huge sting in the tail for those that are tempted by the sales patter."
On Saturday, BBC Radio 4's Money Box programme reported that individuals have given pension liberation schemes an estimated £400m since 2008.
The awareness campaign, featuring a scorpion, will include information leaflets for members of pension schemes, and checklists for pension providers.
The regulator's powers include taking legal action to secure the assets of schemes that are found to flout the rules.
It is encouraging anyone who is approached by one of these scheme's representatives to take care. Anyone who believes that they have been misled by a pension liberation fund should report the case to Action Fraud.