UK workers earning the same as they were ten years ago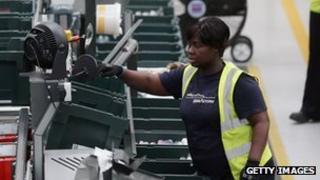 Workers in the UK are earning no more than they were 10 years ago, according to the Office for National Statistics (ONS).
After adjusting for inflation, it said pay levels peaked in 2009.
Between then and 2012 the ONS said pay had fallen by 3% in real terms.
On average, it said workers were therefore earning roughly the same last year as they were ten years ago, in 2003. The TUC said the figures came as no surprise.
"Official figures now confirm what everyone knows. Living standards have been falling for the vast majority, and there is no sign of change," said Frances O'Grady, the TUC's general secretary.
According to the ONS, average pay in 2009 was £12.25 an hour. After adjusting for inflation, that fell to £11.92 in 2010 and £11.41 in 2011.
The figures are not very different for workers in London, although their decline in earnings was a little less steep than in the country as a whole.
But public sector workers fared a little better than those employed in the private sector.
Public sector workers saw more of an increase in their earnings during the boom years up to 2009, and the subsequent decline in earnings was not as steep.
Living standards
The outlook for those whose incomes have been squeezed may not be much better.
It could be another 10 years before living standards return to the levels they were at before the recession, according to a report from the Resolution Foundation, a think tank dedicated to improving the lives of those on middle and low incomes.
It says many people in this section of society could face a permanent hit to their expected levels of prosperity.
"Without steady growth in earnings, living standards will continue to stagnate," said Gavin Kelly, the chief executive of the Resolution Foundation.
"We can't just return to the skewed growth of the past, when too many on low and middle incomes failed to keep up with overall rises in prosperity," he said.
The report suggests that if incomes now rise by just over 1% above inflation, it will take until 2023 for people to regain the living standards they had in 2008, when the recession began.
By that time their earnings might recover to £22,000 a year.