Dutch bank ING to cut another 2,400 jobs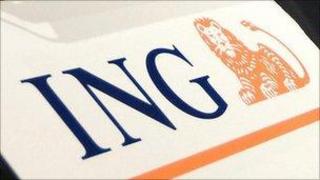 Dutch banking and insurance group ING has announced a further 2,400 job cuts as it prepares to split its banking and insurance operations.
The company said that 1,400 jobs would go from its retail banking business in the Netherlands, with a further 1,000 jobs going at ING Belgium.
It is hoped the move will eventually result in combined cost savings of 270m euros ($364m; £230m) a year.
It takes the total job cuts at the bank to 7,500 in the past 15 months.
The announcement came as ING reported a 21% rise in net profit for the fourth quarter to 1.43bn euros, thanks to gains from asset sales.
However, the underlying pre-tax profit at its banking operations fell 72% to 184m euros. Its insurance unit made a profit of 272m euros, compared with a loss of 1.51bn euros a year earlier.
In 2009, ING said it was going to sell its insurance business in order to focus on its banking operation.
Several European banks - including Barclays, Commerzbank and UBS - have announced job cuts in recent months, with the banks reassessing their operations following the financial crisis.