Peugeot Citroen reports record annual loss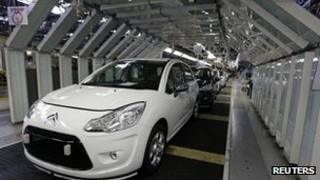 French carmaker PSA Peugeot Citroen has reported a net loss of 5bn euros ($6.7bn; £4.3bn) for 2012, compared with a 588m euro profit a year earlier.
The loss was mainly due to asset write-downs which Peugeot took to reflect the worsening state of Europe's car market.
The carmaker said the write-down on assets totalled 4.7bn euros.
Last year, Peugeot announced a programme to cut its costs by 1bn euros in response to falling sales, including the closure of one factory.
French unions have succeeded in stalling the closure plans in the French courts, but Peugeot said it had succeeded in cutting 1.2bn euros over the past 12 months despite that.
"The results of the cost reduction and asset disposal plans have exceeded our targets," said chief executive Philippe Varin, claiming that, "the foundations for our rebound have been laid".
Group revenues were down 5.2% on 2011, at 58.4bn euros, and income from new car sales fell 12.4% to 27.8bn euros.
The company blamed "the deteriorated environment in the automotive sector in Europe" for the poor results.
Like other manufacturers, Peugeot's sales have been hit by the continuing economic problems in the eurozone.
Car sales across Europe fell by 8.2% last year, according to the Brussels-based car industry group ACEA, while sales in France dropped nearly 14%.