Coca-Cola warns of volatile year to come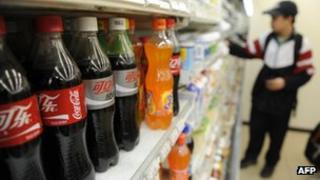 Coca-Cola, the world's biggest soft-drinks maker, saw sales in Europe and China fall in the last quarter of 2012 and warned the year ahead would be unpredictable.
Sales worldwide were up by 3%, but profits, though up 13%, were still below expectation at $1.87bn (£1.19bn).
The company's chief executive, Muhtar Kent, said it had been a tricky year and "we expect this volatility to extend through 2013".
Shares were down by 2%.
He said that last year had seen "the extension of prolonged uncertainty in Europe, the ongoing transition of the economy in China, the lukewarm recovery in the United States and ongoing challenges for Japanese consumers" .
Sales in China were 4% lower in the quarter after growing by 10% in the October-December period in 2011, while sales in struggling Europe fell 5% in the final quarter of the year.
One problem facing the company, whose other brands include Sprite, Fanta, Dasani and Minute Maid, is another rise in the cost of raw materials, including sweeteners, juices, metals and plastic.
Coca-Cola said it expected these to cost $100m more in the coming year.
The company's arch-rival, Pepsi, is also piling on pressure.
It has spent more on marketing, particularly on its core Pepsi brand.