UK inflation rate unchanged at 2.7% in January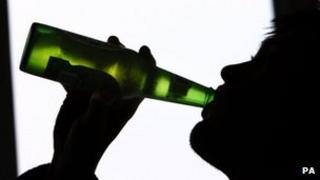 The rate of UK consumer price inflation remained unchanged at 2.7% for the fourth consecutive month in January, official data has shown.
A big rise in the prices of alcohol and tobacco was the biggest factor driving prices up, the Office for National Statistics (ONS) said.
At the same time, there were slower price rises for clothing and footwear.
The rate of Retail Prices Index (RPI) inflation rose to 3.3% in January from 3.1% in December.
Sales
The ONS said the CPI rate had now remained unchanged for the longest period since records began in 1996.
Analysts had forecast a slight rise in CPI to 2.8%.
Alcohol and tobacco prices were up 8.5% on the year, but were also up 4.3% from December, as pre-Christmas discounts came to an end.
However, clothing and footwear prices rose just 0.2% on the year and fell 5.4% on the month as January sales kicked in.
Prices in the miscellaneous goods and services category, which includes personal care products such as toothbrushes as well as things like money transfer fees, fell 0.7% from December.
Looking ahead, Phil Gooding from the ONS told the BBC that there were factors pulling prices in both directions.
"We know that not all the rises in utility prices have yet entered the index. There's still some more to come which will have an upward effect on inflation," he said.
"We also have to watch out for oil prices - these have been falling for four or five months but in January they started to rise again.
"On the other hand, we know of a number of large stores closing or at least going into administration over the last couple of months, so there are pressures on certain parts of the High Street which could have a downward effect."
'Squeeze'
Business lobby group the British Chambers of Commerce (BCC) said the Bank of England had little room to target inflation in the short term, but needed to be on guard in the longer term.
David Kern, the chief economist at the BCC, said: "While there is no substitute for strong policies to boost growth, it is important that the MPC [Monetary Policy Committee] does not give the impression that it will be prepared to tolerate higher inflation in the near future."
Victoria Clarke, an economist at Investec, said higher inflation was making life hard for individuals, too: "In terms of the consumer, it certainly means that the squeeze on real spending power remains very much in place, but that's mitigated to an extent by employment having held up relatively well."