UBS fined for mis-selling AIG fund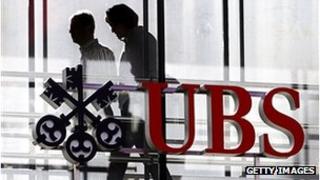 Swiss bank UBS has been fined £9.45m by the UK regulator for mis-selling an investment fund from insurer AIG.
The Financial Services Authority (FSA) said the bank had not understood the product it was selling and did not take effective action when the financial crisis struck.
"UBS's conduct fell far short of what its customers deserved" said the FSA's Tracey McDermott.
UBS said "we are pleased that we can put this issue... behind us".
The bank added that it wanted to "continue to focus on serving our clients and executing our strategy".
UBS is also likely to have to pay about £10m in compensation to the clients who bought a riskier investment than they had bargained for.
'Run on the fund'
"It failed to ensure it understood the product it was selling, failed to recommend it to the right customers and failed to take effective action in the financial crisis when the problems with the fund came to the fore," said Ms McDermott.
Between 2003 and September 2008 UBS sold the fund to 1,998 high net worth individuals with initial investments totalling £3.5bn.
There was a run on the fund after Lehman Brothers filed for bankruptcy protection in 2008 - resulting in its suspension and customers not being allowed to withdraw money.
A sample review by the FSA found that at least 19 customers were mis-sold the fund and that UBS had mishandled at least 11 complaints.
This follows a $1.5bn fine in December for the bank's part in a global rate-rigging scandal. The British bank Barclays was also fined.
They were accused of manipulating a key interest rate - Libor - which tracks the average rate at which the major international banks based in London lend money to each other.