Finmeccanica's Giuseppe Orsi held on corruption charges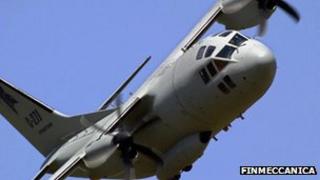 The chief executive of Italian aerospace and defence firm Finmeccanica has been arrested on corruption charges.
Giuseppe Orsi has been under investigation for bribery and embezzlement for several months. He has always denied any wrongdoing.
Prosecutors allege he paid bribes to ensure the sale of 12 helicopters to the Indian government.
Finmeccanica shares slumped in Milan after initially being suspended.
They fell more than 9% to 4.236 euros.
In a statement, Finmeccanica expressed solidarity with Mr Orsi and said: "Finmeccanica confirms that management activity and the initiatives it has undertaken are continuing in an orderly fashion."
Italy's Prime Minister, Mario Monti, said in an interview with Italian television: "Magistrates will do their work. I'm sure they will do it thoroughly and in the best way possible."
He added: "There is a problem with the governance of Finmeccanica at the moment and we will face up to it."
Arrest warrants have been issued for two people living in Switzerland. The head of Finmeccanica's AgustaWestland business, Bruno Spagnolini, was also placed under house arrest.
India's foreign ministry said it had not been informed of the raid.
"We had asked the government of Italy through our mission in Rome for details of the investigation, but were told that it is a judicial process and the government of Italy is unable to share any information," said foreign ministry spokesman Syed Akbaruddin.
An Indian defence ministry spokesman was later quoted by the AFP news agency as saying the country had now ordered its own investigation.
For Italy, it is the latest in a string of corporate scandals - including risky trades at the bank Monti Paschi di Siena and allegations of bribery at the oil services group Saipem.
Mr Orsi was in the process of overhauling Finmeccanica to try to make the company profitable again. The Italian government owns about 30% of the company.