Libor scandal: RBS boss Stephen Hester 'should get his bonus'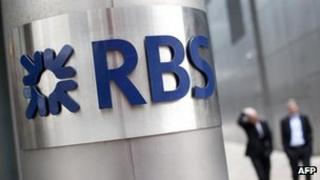 The boss of Royal Bank of Scotland (RBS) should not have to cancel his bonus in light of the Libor rate-fixing scandal, its chairman has told MPs.
RBS has been fined £390m ($610m) by UK and US authorities, which it intends to pay from past, current and future bonuses.
But the head of the banking commission said it was "not given sufficient confidence" this will happen.
Stephen Hester is due to receive a deferred bonus of £780,000 in March.
For the Libor scandal, where RBS traders colluded with other traders to try to fix the benchmark Libor lending rates between 2006 and 2010, the UK's Financial Services Authority issued a fine of £87.5m, and another £300m will be paid to US regulators and the US Department of Justice.
'Modest'
RBS chairman Sir Philip Hampton told the Parliamentary Commission on Banking Standards that Mr Hester's pay was "well below the average in world banking. Relative to other people doing these jobs his pay has been modest".
Mr Hester receives a basic salary of £1.2m and is set to receive the payment in shares deferred from three years ago.
But the chairman of the commission on Banking Standards, Andrew Tyrie, said he was not convinced by the statements given by Sir Philip and Mr Hester before the commission on Monday.
"We were not given sufficient confidence today that the arrangement for funding the fines from bonuses will do what it says on the tin," he said. "This must be more than an exercise in creative accounting. It would be all too easy to artificially adjust a bonus pool, the size of which is yet to be decided."
During his testimony, Mr Tyrie challenged Mr Hester on whether his remuneration package should be cut over the Libor scandal.
"I think that my bonus should be assessed on all of the things I do well and badly and judgment should be reached in the round," Mr Hester replied.
"I think that if you look at the RBS that we took on four years ago or so, that we have done huge things to rescue a situation for the company and for society and for its shareholders, which included hundreds of billions of pounds of risk that the country was exposed to, which it is not exposed to any more."
More than four years on from a massive government bailout, the bank is still 81% owned by the taxpayer.