Brazilian family firms reveal tips for success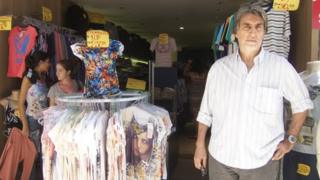 Nelson Assemany knows what a family business needs in order stand a chance of being successful - you have to establish a proper leadership structure.
The 68-year-old and his four brothers opened a shop together in Rio de Janeiro in 1967. Now employing their sons and nephews, today they have two shops, one selling fabrics, the other imported consumer goods.
Mr Assemany says a well-defined hierarchy is "essential, otherwise it becomes a mess".
While the outside perception of Brazilian business is that it is dominated by the likes of mining giant Vale and oil group Petrobras, the reality is that 85% of the country's companies are much smaller, family-run operations.
'More adaptable'
Carlos Mendonca, a family business specialist at the Brazilian unit of global accountancy group PricewaterhouseCoopers, says such firms can be much quicker footed than larger companies.
"They can easily adapt in a crisis compared to a company managed by a board, where you have to consult other people and get approvals for everything," he says.
Mr Mendonca adds that family businesses are also more likely to be focused on long-term growth, as the aim is to pass them on in good shape to the next generation.
By contrast, he says that large companies are often too concerned with short-term results and shareholder profits.
Despite saying a leadership structure is vital, Mr Assemany says that the older generation must still learn from the skills, of the younger family members.
"The older ones have to listen to the younger ones, and vice versa," he says.
Mr Assemany adds that it is necessary for him and his brothers to be open to the theories and new technologies the sons and nephews have acquired at university.
"You cannot leave aside technology improvements in your company, for example, just because you and your whole generation don't understand it," adds Mr Assemany. "You have to be open to the improvements it can bring."
Maintaining traditions
At 55-year-old family bakery business Panificacao Mandarino, innovation has limits.
Business growth is always a goal, just as long as the recipe that made its Globo biscuits such a popular snack in Rio remains the same.
Packs of Globo are sold by street vendors, in traffic jams or at the beach, and have a short shelf-life.
Marcelo Ponce, 29, one of the heirs to the business, says it is the fact that it is family-run that guarantees the product remains solely made from all-natural ingredients.
He says that if the company had shareholders, it would come under pressure to change the formula to enable it to be sold at supermarkets.
"To be sold at supermarkets or outside Rio we would have to add preservatives", something the founders are against, says Mr Ponce.
The bakery is owned by Marcelo's father, his two uncles and a non-family partner, who are 75 years old on average, and still very active in the business.
Hierarchy works well and is respected inside the bakery, but Mr Ponce says it's not easy to go against his father's opinions.
"When I disagree, I am disagreeing with both my father and my boss. Sometimes the discomfort stays through the weekend," he says.
'Conflict'
Mr Assemany says his firm will not hire someone just because they are family members.
The new employee has to add real value to the business, which could be specific knowledge or experience in the field, he says.
Business consultant Jose Renato agrees family firms should be wary of taking on a new son or daughter.
"Some may want to take advantage… and that's where the conflict can arise," he says.
Mr Renato says people who join their family firm have to behave like a "role model".
Succession issue
For Mr Renato, the biggest difficulty for any family-run business is handing over power to the next generation when the current head of the family retires.
"It's the number one challenge in a family business," he says. But he adds that the subject is often avoided, and even treated as taboo.
Mr Renato says the two generations must keep talking during the succession process to ensure that traditions are kept, at the same time as any innovations are introduced.
Mr Mendonca adds that there are two main factors that need to be considered in a succession process.
"Is there anyone in the family who might want to take on the business? And does he or she have the skills?" he says.