Long-term mortgage rates fall to record lows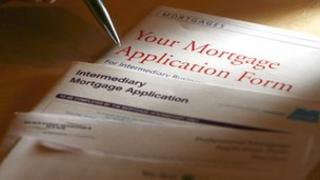 Interest rates on some new mortgages fixed for five years have fallen to the lowest levels on record.
There are currently 16 lenders offering mortgage loans at less than 3%, if borrowers can put down large deposits.
HSBC's internet lender First Direct has launched a new deal with an interest rate of just 2.69%, if a borrower can put down a 35% deposit.
Earlier this week the Post Office launched a similar deal, at 2.74% for those with a 40% down payment.
Rates below 3% were first launched last summer, typically at either 2.95% or 2.99%.
Even cheaper deals have now emerged, thanks to the Bank of England's Funding for Lending Scheme (FLS), which was launched last August.
This is offering up to £60bn of cheap funds to banks and building societies, if they then lend the money to individuals and businesses.
Ray Boulger, of mortgage brokers John Charcoal, said that FLS was definitely driving greater competition among lenders.
"The number of very cheap deals has been rising for the last few weeks," he said.
"We have also seen lenders cutting rates for people with just 20% or even 15% deposits."
Best buys?
The average five-year mortgage deal has come down in cost substantially in the past two years.
Recent statistics from the Bank of England showed that in December 2012 the average interest rate being offered on a five-year deal was 3.89%.
That compared to an average rate of 5.15% two years ago, in February 2011.
Aaron Strutt of mortgage brokers Trinity Financial said: "The lenders have been battling to top the best buy tables for a quite some time, but they seem to be stepping up the fight."
"There are five or six lenders offering sub-2% rates and they offer great value for money, although it is important to choose a best buy mortgage carefully as some of the arrangement fees are rather high and there may be a large early repayment charge."
As an example, the Chelsea, now part of the Yorkshire building society, is currently offering to lend money at just 1.89% for two years.
That is available for someone with a 40% deposit and also able to pay a £1,695 fee.
Stringent requirements
Some of the new low rates are marketing gimmicks, designed to push lenders' names to the top of the best-buy tables on price comparison websites.
As the new cheap deals come with hefty arrangement fees which have to be factored into the overall cost, they may not necessarily provide the best deal.
Despite the Bank of England supplying cheap money for lenders, there is little evidence so far that they are relaxing their stringent lending requirements.
This means that in practice most of the funds are still being channelled to those deemed to be the least risky borrowers; people with large deposits and good credit ratings.
Ray Boulger suggested this cautious stance may change soon.
"Most lenders have said they plan to raise their lending this year, some by quite a lot," he said.
Andrew Montlake of mortgage brokers Coreco said: "As competition among lenders intensifies, they will start moving up the risk scale, and we will see more 85%, 90% and even some 95% deals coming out."
"For first time buyers, it is a matter of waiting and then there will be more choice for them."