Up to 70 Crown post offices to be moved into shops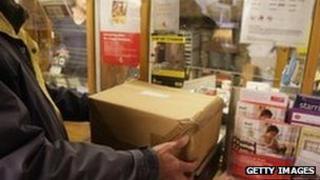 The Post Office has announced plans to close up to 70 of its main High Street premises, otherwise known as Crown branches.
It wants to replace them with post offices that are based in other shops.
It says the overall size of the network will not be affected, and where retail partners cannot be found, the Crown office will remain.
Trade unions called the move a "partial destruction" of the Crown network.
But the Post Office insisted it is not a closure programme.
"Our overall investment will maintain the size of the network and modernise branches to meet customer needs," said a spokesperson.
Opening hours
Crown branches (owned by the Post Office) now make up 3% of the total number of post offices. In all there are 11,500 post offices across the UK, of which 370 are Crown branches.
The Post Office insisted the changes were necessary to save money, as Crown branches are currently losing £40m a year.
"Crown branches are a fundamental part of our long term growth strategy and need to be brought into profit," a spokesperson said.
The Post Office said franchised offices, often in retailers such as WH Smith or the Co-Op, were brighter and bigger, and had longer opening hours.
It has also promised that any new post offices would be in the same vicinity.
The changes will be subject to local consultation periods of six weeks. Consumers and businesses will not be allowed to object to the principle of Crown office closures, but they will be able to object to plans to partner with a specific retailer.
For example, the proposed post office may be too far away from the High Street, or there may be no parking facilities.
'Huge impact'
The Communication Workers Union (CWU) is highly critical of the plans, which it says amount to a "partial destruction of the Crown network".
"This move will have a huge impact on the High Streets of small towns earmarked to lose their Crown post office," said Billy Hayes, the CWU's general secretary.
"These offices provide a dedicated specialist service to communities which will not be replicated by a window or two in a bigger shop," he added.
A recent survey by Consumer Focus found that waiting times in franchised offices were actually shorter than in Crown post offices.
In November it reported that 25% of customers in franchised offices waited for longer than five minutes, while it was 31% of customers in a Crown post office.
However, customers in branches franchised to WH Smith queued for the longest periods, with 40% waiting for longer than five minutes.