Nissan Motor profits fall on weak demand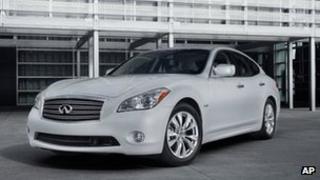 Japanese car maker Nissan has reported a big fall in third quarter profits, blaming weak demand in Europe, China and the United States.
Net profit fell to 54.1bn yen ($583m; £371m) in the October to December period, down 35% from a year earlier.
Sales in the quarter dropped 5.3% to 2.2 trillion yen, with sales in its biggest market, China, down 31.3%.
Despite this, Nissan maintained its 340bn yen profit forecast for the full year.
Nissan's sales in China have been hurt by a territorial dispute between Japan and China which has hit sales of Japanese products.
Meanwhile the downturn in the European economy means all carmakers have suffered from poor sales there.
"Nissan's performance in the third quarter did not meet our expectations," said chief executive Carlos Ghosn.
"This was primarily the result of difficult operating conditions in Europe for the entire auto industry, in China for Japanese automakers, and in the US for Nissan."
However, there are hopes that the weakening of the yen against other currencies will help Japanese exporters.
The yen has lost about 20% of its value against the US dollar since October, helping Japanese firms to convert overseas profits back into yen at a more favourable rate.