Peugeot writes off 4bn euros as car market worsens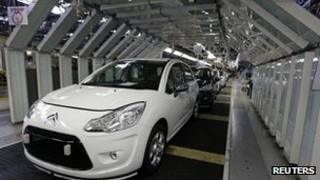 French car maker PSA Peugeot Citroen is writing down the value of its assets by 4.1bn euros ($5.5bn; £3.5bn) to reflect the worsening state of the car market.
Peugeot said new accounting guidelines had prompted the move and that it was reversible when conditions improve.
The statement comes ahead of next week's earnings and indicates it will report heavy losses for the period.
Global sales at France's largest car firm fell 16% in 2012 to less than three million.
Peugeot is in the process of cutting 8,000 jobs and closing a factory to stem losses.
Chief financial officer Jean-Baptise de Chatillon said: "There was a realisation in the second half that the crisis was going to be longer than expected... This is purely an accounting adjustment which has nothing to do with operations."
France's market regulator last year demanded that companies value their assets more realistically - prompting a 7.4bn-euro charge from Credit Agricole.
A report in the French newspaper Liberation said the government was examining the possibility of buying a stake in the struggling company as a "last-resort plan".
Initially, this appeared to be backed up by Budget Minister Jerome Cahuzac, who said it was "possible". But this was later denied by the Economy and Finance Minister, Pierre Moscovici. He said that Mr Cahuzac was talking about the tools available to the state, but that it was not "envisaged or necessary".
Peugeot, a founding member of the main French stock market index, the Cac-40, was demoted last year as a result of its tumbling share price.