Boeing gets permission for Dreamliner test flights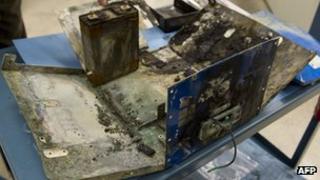 The US Federal Aviation Administration (FAA) has allowed Boeing to carry out test flights of 787 Dreamliner planes.
The entire fleet of 787s was grounded last month after a battery on one plane caught fire, while a malfunction forced another to make an emergency landing.
Regulators as well as Boeing have been conducting probes to find out what caused the incidents.
The FAA said the test flights will help collect data about battery performance "while the aircraft is airborne".
Marc Birtel, a spokesman for Boeing added that such data will "support the continuing investigations into the cause of the recent 787 battery incidents".
"We are confident that 787 is safe to operate for this flight test activity," he added.
The FAA said it had asked Boeing to conduct extensive pre-flight testing and inspections and that the flights would be conducted "in defined airspace over unpopulated areas".
Reassess certification?
However, in a separate development another US regulator, the National Transportation Safety Board (NTSB) said the tests carried out by Boeing on the Dreamliner batteries, when they were first certified, missed the high risk of fire.
It said that Boeing's tests underestimated the frequency of "smoke events" in the lithium ion batteries.
The NTSB head said that Boeing's safety checks suggested that a smoke event would occur less than once every 10 million flight hours.
However, the 787 planes have only clocked up 100,000 hours of flight-time since entering commercial services, and have experienced two battery fires.
The tests also failed to spot that overheating in one battery cell could cascade to the others, causing a fire, the NTSB added.
"The failure rate was higher than predicted as part of the certification process and the possibility that a short circuit in a single cell could propagate to adjacent cells and result in smoke and fire must be reconsidered," said Deborah Hersman, the head of NTSB.
She added that the regulators may need to reassess the certification of the battery used in the Dreamliner planes.
"Our task now is to see if enough, and appropriate, layers of defence and adequate checks were built into the design, certification and manufacturing of this battery."
However, the NTSB said it still had many more leads to investigate and hoped to produce an interim factual report, but not a final report, within 30 days.