Euro drops after Draghi says ECB 'monitoring' value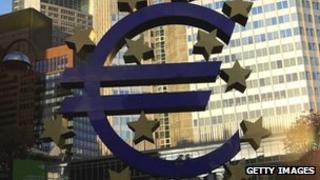 Comments by the European Central Bank (ECB) chief on the euro's recent strength have prompted it to fall more than a cent against the dollar and a penny against the pound.
Mario Draghi said its rise affected prices and economic growth, and was something the ECB was monitoring.
His remarks, which came after the ECB's monthly interest rate meeting, saw the euro fall to 85.3p and $1.34.
The ECB kept its interest rate unchanged at 0.75%, as expected.
Many analysts do not expect the ECB to alter rates from their current record low until next year at the earliest.
'Fragile' confidence
Mr Draghi told the news conference that the recent appreciation of the single currency - which has gained 12% against the dollar since the summer - was another a sign of confidence.
"The exchange rate is not a policy target but it is important for growth and price stability," Mr Draghi said in response to a question.
"We will closely monitor money market developments."
The money markets responded to his words by immediately knocking almost 1% off the euro's value.
The strong euro undermines the competitiveness of European exporters, and also drags down inflation in the single currency area due to the cheapening of imports.
"The economic weakness in the euro area is expected to prevail in the early part of 2013," he said.
"Later, in 2013, economic activity should gradually recover, supported by our accommodative monetary policy stance, the improvement in financial market confidence and reduced fragmentation, as well as a strengthening of global demand."
Mr Draghi said that business confidence was returning, but the situation "remains fragile".
'Risks'
The last time the ECB made a change to its main interest rate was in July, when it was cut from 1%.
Recent surveys have suggested that the pace of decline in the eurozone's manufacturing and service sectors has slowed.
Mr Draghi said that there were signs that business and financial confidence in the eurozone was returning, although there "continues to be downside risks".
The increasing amount of loans that European banks are repaying to the ECB was a sign of that confidence, he said. "It means they (banks) are less uncertain than they were a year ago."
Two weeks ago, the ECB said that some of the banks that received billions in cheap loans to keep them afloat during the debt crisis would repay 137.16bn euros (£117bn) of money they had borrowed.
In December 2011 and February 2012, the ECB provided a total of more than 1 trillion euros of low-interest loans to 800 banks across the European Union.
The UK's Bank of England also announced on Thursday that it would be keeping its main interest rate on hold at 0.5%.