UK industrial output rose 1.1% in December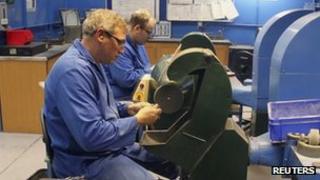 UK industrial output rose 1.1% in December from the previous month, according to the Office for National Statistics.
The rise - which includes figures for energy production and mining - was higher than many economists' predictions of a 0.9% rise.
Manufacturing output rose 1.6% for the month, after falling 0.3% in November.
Analysts say the increase will raise hopes that the economy can avoid another recession.
Despite December's rise, for the three months to the end of the year, industrial output was 1.9% lower than the previous quarter.
This was the biggest fall since the first quarter of 2009, and was in large part driven by temporary shutdowns in North Sea oilfields.
However, James Knightley, senior economist at ING, said: "With more North Sea oil and gas production set to come on stream over the next couple of months, we anticipate another decent figure next month.
"Furthermore, with the purchasing managers' index for January also showing growth, this offers further indication that the UK will probably avoid the fate of dipping into recession three times in the space of five years."
Philip Shaw, an economist at Investec, agreed: "The significant rebound in manufacturing output over December is welcome, which should help to dispel fears over a triple-dip recession."
But Peter Dixon at Commerzbank was more cautious: "The key point is manufacturing output is still 1.5% lower than it was a year ago, so although it was a good month in December, the trend clearly has not been very friendly over the last 12 months."
Separately, ONS data released on Thursday showed that the UK's trade deficit in goods narrowed in December as forecast.
The goods trade deficit shrank to £8.89bn from £9.27bn in November. The consensus forecast among economists was a gap of £8.93bn.
The surplus on trade in services remained the same in December at £5.7bn.