India cuts economic growth forecast to 5%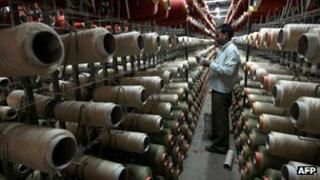 India has lowered its growth forecast for the second time in two weeks, underlining the challenges it faces in reviving its sluggish economy.
The statistical office has forecast growth of 5% for the year to 31 March 2013, based on advanced estimates.
Last week, India's central bank had cut its forecast to 5.5% from 5.8%.
India's growth has slowed in recent months because of several factors, not least the sharp slowdown in its manufacturing and services sectors.
Rupa Rege Nitsure, chief economist at the Bank of Baroda, said that the revised figure of 5% growth was "more in tune with reality".
"The industrial sector downturn has extended beyond anyone's expectation. Exports have been continuously declining, non-food credit growth is slowing while agricultural sector performance has also been sub-optimal," she added.
No complacency
India's economy grew by 5.3% from a year earlier in the July to September quarter, the slowest pace of expansion in three years.
A slowdown in exports and subdued domestic demand have affected the manufacturing and services sectors.
Meanwhile, foreign investors have also been wary of entering the country amid a delay in key reforms.
That has led to concerns that India's growth rate may slow further in the coming months.
Prompted by these fears, policymakers have taken various steps to try and spur a fresh wave of economic growth.
The government has passed key reforms, opening up the retail and aviation sectors to foreign investors.
Last month, India's central bank, the Reserve Bank of India, cut its key interest rate to 7.75% from 8%, the first such move in nine months.
It also lowered the amount of money that banks need to keep in reserve, a move it said should provide 180bn rupees ($3.4bn; £2.1bn) of extra cash for them to lend.
Analysts said that while these moves had been positive, the downward revision in growth numbers was an indicator that the policymakers needed to do more.
"One of the messages that this forecast sends is that the government cannot afford to be complacent with its reform process," Vishnu Varathan, senior economist with Mizuho Corporate Bank told the BBC.
"It needs to keep pushing through with even more measures."
Mr Varathan added that the government needed to reduce its subsidy burden, improve infrastructure, and simplify and streamline the tax regime.
He said such moves would not only help increase revenue and reduce the deficit but also help shore up investor confidence, which he said had been dented recently.
"They key to get the economy going lies in getting investment growth back on track," Mr Varathan said.