News Corporation sees net income double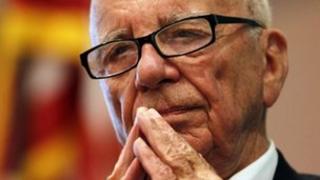 News Corporation has reported a more-than-doubling in profits, but spent another $56m to cover costs related to the defunct News of the World.
Net income for the three months to December came in at $2.38bn (£1.52bn) thanks to strong growth at its cable networks, which include Fox TV.
News Corp also owns newspaper titles, including the Wall Street Journal and the Times newspapers in the UK.
It closed the News of the World in 2011 following the UK phone hacking scandal.
The cost to News Corp of its continuing investigations into the News of the World during the three-month period represented just 2.4% of its profits, and was down from $87m a year ago.
News Corp said in June that it was separating its entertainment and publishing businesses, partly as a result of the scandal, in which journalists gained illegal access to the phone messages of many well-known people, and allegedly bribed members of the UK police force.
Shareholders had expressed concern about damage done to the publishing business by the events at the News of the World.
News Corp said it was making progress towards this goal, which is said it hoped to complete by the summer of this year.
Mr Murdoch, who is both chairman and chief executive of New Corp, said: "The strategies we executed against in the quarter continue to bolster News Corporation's competitive position and enhance our ability to benefit from global demand for content, especially sports programming.
"As we make progress toward the proposed separation of our entertainment and publishing businesses later this year, I am confident in the future prospects for both businesses."
The more lucrative TV and film business will remain in the parent company, to be called Fox Group.
It will include the US news channel Fox News and the 20th Century Fox film studio.
Fox television stations benefitted from an increase in political advertising revenues driven by the US presidential elections.
Meanwhile, the company's movie business was boosted by the theatre release of the Life of Pi, which grossed over $500m.
News Corp's profit beat market expectations, as did rivals Disney and Time Warner, who also reported quarterly results over the previous 24 hours.