Barclays boss 'shreds' Bob Diamond legacy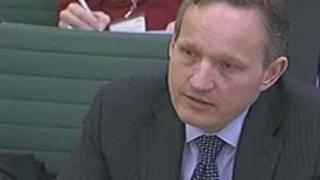 Banking giant Barclays had an "aggressive" and "self-serving" culture under its former boss, the new chief executive has told MPs.
Antony Jenkins told the parliamentary committee on banking standards that he was "shredding" the legacy left by his predecessor Bob Diamond.
He confirmed bonuses would be cut, and he would waive his own.
He said he need not have resigned even though he was in charge at Barclaycard during one mis-selling episode.
Earlier, the bank said it had set aside another £1bn to cover the costs of the mis-selling of payment protection insurance (PPI) to individuals and interest rate hedging products to small firms.
Mr Jenkins was in charge at Barclaycard at a time when PPI was mis-sold.
'Difficult year'
Mr Jenkins took over as chief executive in August. He told MPs he repeatedly raised concerns with the board and Mr Diamond over the culture at the bank, and that "actions" were needed rather than words.
He said the bonus pool for 2012 had already been "substantially" reduced and would be cut further owing to the mis-selling issues.
Mr Jenkins said last week he would waive his bonus for 2012 after a "very difficult" year for the bank. He would have been entitled to a maximum of £2.75m, in addition to his £1.1m salary.
Details of the full bonus pool are expected with the company's annual results next Tuesday.
Mr Jenkins, who appeared in front of MPs with Barclays' chairman Sir David Walker, is leading a campaign to repair the bank's image and overhaul its culture.
Mr Diamond quit last year after the bank agreed a £290m settlement with UK and US regulators over the Libor rate-fixing scandal.