UK and eurozone service sectors see improvement, data shows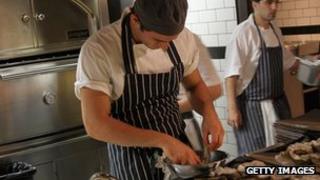 The UK's service sector returned to growth in January, while the pace of decline in the eurozone has slowed, a survey has shown.
The Markit/CIPS purchasing managers' index for the UK rose to 51.5 last month, from 48.9 in December. A figure above 50 indicates growth.
In the eurozone, the PMI index of 48.6 marked a service sector contraction for the 12th successive month.
However, the figure was still up on December's reading of 47.8.
'Signs of healing'
"The eurozone is showing clear signs of healing, with the downturn easing sharply in January and the region moving closer to stabilisation in the first quarter," said Chris Williamson, Markit's chief economist.
However, he also noted that growth was heavily skewed towards Germany, while France, Spain and Italy were still seeing contacting economies.
Germany's service sector saw strong growth in January, with its PMI index at 55.7 - the fastest rate of expansion in the sector for more than a year and a half.
At the other end of the scale France' service sector scored 43.6 - the lowest reading in nearly four years.
In the UK, the performance of the service sector appeared more positive.
The survey suggested growth coupled with an increase in new business and higher staffing levels.
Mr Williamson said the growth of the service sector "greatly reduces the likelihood of the UK falling back into a triple-dip recession".
Uncertainty remains
The service sector is seen as a good indicator of the UK's wider economy as it accounts for around three-quarters of the UK's economic output.
Economists broadly welcomed the positive data, but remained cautious on their outlook for the UK economy.
Official figures show that the economy shrank in the last three months of 2012, raising fears that the UK would fall back into recession for a third time since 2008.
Rob Wood, an economist at Berenberg Bank, said the risk of a triple-dip recession had "receded substantially", but he warned that the outlook for the economy remained uncertain.
"What it does is really confirm the UK is moving sideways rather than moving back or moving forwards decisively," he said.