Viewpoint: Lessons Europe can learn from China's match-fixing scandal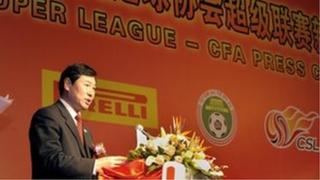 The shocking news that more than 300 European football matches may have been fixed by Asian syndicates has created an intriguing prospect that few could have predicted - the possibility that China might have something to teach Europe about football governance.
Until the latest revelations from Europol, the great Chinese football scandal that played out from 2009-2012 sat humbly at the top of football's ignominious list of organised football corruption case studies.
Not just because it revealed systematic abuse at all levels of the game by all its key guardians, but also because it resulted in some of the heaviest prison sentences ever handed down for 'sporting' offences.
Like the current European crisis, China's scandal can be traced to Singapore, but for very different reasons.
When mainland Chinese clubs were permitted to enter reserve teams into the struggling Singapore local league as a way to increase interest in the competition and provide Chinese clubs with an opportunity for their younger squad members to get match experience, it led to the same type of 'match-selling' (as opposed to match-fixing) that had already proved so profitable for unscrupulous club owners on the mainland.
National task force
In match-selling, the owner or controller of one club simply sells the points available in each match directly to his opposing number. In many cases, the fee received is then placed at an illegal bookmaker on the pre-arranged score.
In a positive indication of how Singapore will surely react to the current European crisis, the local club owners swiftly condemned such approaches and the offending Chinese charlatan club owners fled back to China. There, they were picked up by Chinese police and spilled the beans.
Following the many smaller refereeing and match-fixing scandals that have consistently affected Chinese football since the launch of a professional league in 1993, there was strong political pressure to deal with this latest national embarrassment and a national-level joint task force brought together all the required security, judicial and party branches.
Once the investigation had started at this level, it was very hard to stop. Over a period starting in late 2009 and running through to the end of 2011, hundreds of senior people working in all areas of the game were silently lifted from their places of work and delivered to the investigation centre at a hotel in north China.
During the period of arrests, the sometimes daily disappearance into custody of another Chinese Football Association (CFA) official, club manager, referee or player was heralded only by ominous press reports noting that "X has not answered his phone for two days" or "Y was not seen at training on Monday".
At the investigation centre, the interrogated spilled yet more beans, requiring further arrests and continual broadening of the scope of the investigation. As one of the released detainees told me: "Nobody knew who had said what, so everybody gave up everything."
By the end, nobody and nothing in Chinese football was left untouched and several new innovative ways of stealing from the game had been revealed.
More than 50 people including two heads of the CFA, leaders from its regional branches, professional club owners, managers, coaches, referees, players, agents, sponsors and assorted middlemen were sent to prison, with the highest officials, including the head of the Referee's Committee, receiving over 10 years each.
The professional league was only able to continue on the dubious grounds that several offending clubs were now under new (blameless) ownership.
Press freedom
Amazingly for China, throughout this campaign, local press coverage of the scandal was intense and largely unfettered.
Condemnation of those responsible for polluting the country's favourite sport was universal and the actions taken by the authorities were applauded by the state press and endorsed by millions commenting via Chinese social media.
So deep was the national feeling of betrayal that when former CFA chief Xie Yalong dramatically retracted his confession and accused the police of torture during his televised trial (an extremely serious matter), there was little public sympathy.
Indeed, some bloggers called for an investigation into why the other defendants had escaped the same treatment.
Whether or not you agree with Chinese tactics or the above sentiment, this is what happened in China.
China still has everything else about football to learn from Europe, including understanding the Fifa constitution.
However, if there is anything in this sorry saga for Europe to consider as it faces a scandal of much bigger proportions, it is first that corruption and bribery in sport must be taken very seriously at the highest level if anything is to be achieved.
Once there is a concerted and united political and legal effort to root out corruption, please do not limit the campaign to match-fixing.
Be prepared for the truth to reveal a disgusting web of greed that has infected parts of the game and people in the game who had previously seemed above suspicion. As China discovered, bribery starts at junior grassroots level and it reaches to the very top.
Finally, and this is perhaps the most unexpected learning from China's experience, the media must reflect the feelings of the people and stand ready to use its full power to expose the industry and, where necessary, some of the personalities on which it relies for so much TV content and back-page copy.
If there is one thing on which every honest stakeholder must agree, it is that nothing is more fundamental to sport than fair play.
Rowan Simons is the chairman of China ClubFootball FC, the first independent grassroots football network in China, and the author of Bamboo Goalposts.