Fiscal choices from IFS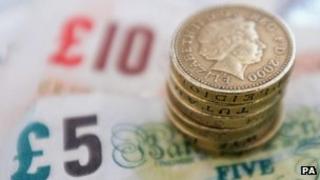 The great value of the annual Green Budget from the Institute for Fiscal Studies (IFS) is that it spells out in black and white the fiscal choices implicit in government policy, some of which will come as a surprise - even, perhaps, to ministers themselves.
It also shows us the choices that ministers will probably have to make in the future, or would, if they were they not burdened with that irritating desire to be re-elected.
Here's one choice that has been hiding in plain sight: the chancellor is no longer pursuing Plan A, and has not been for some time.
The reality, underlined in this report, is that George Osborne has faced a big deterioration in the underlying state of the public finances since 2010, which he has decided to do almost nothing about this side of a general election.
The worsening in the economic picture since 2010 has led to a £65bn increase in borrowing by 2014-15. As the IFS notes, Mr Osborne is planning to offset just £1bn of that. So the deficit in that final year of the parliament is now forecast to be £64bn more than he originally planned - an overshoot of close to 4% of GDP.
You might not call that Plan B: after all, he has not actually reversed any of the big spending and tax decisions of summer 2010. And he has pencilled in two or three more years of pain from 2015 onwards. But it's not Plan A either: for better or worse, fiscal policy between 2010 and 2015 is going to be quite a lot looser than Mr Osborne planned.
In fact, the IFS point out, mischievously, our current chancellor's policy is even too loose to meet the terms of Labour's own Fiscal Responsibility Act of 2010, which imposed legal sanctions for failing to meet various debt and borrowing criteria.
To avoid legal sanctions under that legislation, Mr Osborne would have needed to find another £8bn a year in tax rises and spending cuts. (Which rather makes me think Labour might have had to repeal it too, had it won the election.)
Another IFS observation that some ministers may be surprised by: the social security budget is rising, not falling over the course of the government's austerity programme, both in real terms and as a share of government spending.
It accounted for 28.5% of all spending in 2010-11. By 2017-18 that is expected to have risen to 32.5%. Due, in part, to the coalition's determination to protect them, pensioner benefits will account for well over half of that total. As the report points out, barely 25% of those benefits are means tested, compared with 80% of benefits for people of working age.
I said the Green Budget also told us the choices the government will need to make in future, or would make, if it were made up of IFS pointy heads rather than politicians.
There are plenty of those in this 330-page report, and also plenty of traditional IFS finger-wagging about the lack of a truly coherent tax policy, and the government's inconsistent approach to things like indexation. (The government's approach to indexing rents for housing benefit, for example, the authors find "difficult to square with any intelligible policy objective". 'Twas ever thus.)
But the big choices coming down the track are not hard to spot for any disinterested reader of this report. Any such person would conclude, for example, that the government was going to squeeze the welfare budget more than currently planned after 2015, and raise taxes more as well, for the simple reason that without these extra sources of revenue, the cuts that would be needed in unprotected departmental spending look simply unmanageable.
When it comes to cutting welfare, benefits for better-off pensioners have had a lot of attention. But, as the authors point out, they account for a tiny share of overall spending on pensioners. Means testing could raise maybe £1bn to £1.5bn, at best. Not to be sneezed at, but quite a small reward for all that political flak from the over-65s.
And raising taxes? The report points out that the vast majority (85%) of tax revenues already come from people in the top half of the distribution, but if the government wants to raise more from them, raising the basic rate of income tax for the first time in 40 years would be a decent place to start. You could raise £5bn from raising it by 1p, most of it from people on higher incomes.
Incidentally, the IFS gives the lie to the government's claim to have lifted more than a million people "out of tax" with the big increases in the personal allowance since 2010-11. In fact, the IFS notes: "no earners have been taken out of the direct tax net" by this generous (not to mention expensive) tax cut. That is because the people affected still pay national insurance.
The authors also rebut the idea that these changes to the personal allowance have been "progressive": "The largest average gains - in cash terms and as a percentage of income - go to those in the middle and upper-middle of the income distribution."
It's a small point, admittedly. A lot smaller than many others flagged up in this report. But it is another reminder of why the IFS is a useful institution to have around.