Panasonic shares surge as it swings back into profit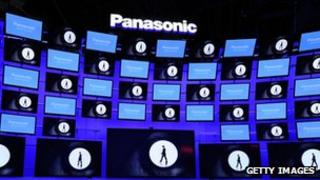 Shares of Panasonic have surged 17% to 692 yen in Tokyo, after the firm swung back into profit in the third quarter.
On Friday, Panasonic reported a net profit of 61.3bn yen ($666m; £421m) for the October-December period, compared with a 197.6bn yen loss a year earlier.
Panasonic, which kept its forecast for a full-year loss unchanged, said a weak yen had improved business conditions.
Analysts said investors were hoping that a weak currency will help boost profits further in the current quarter.
"For the time being they are being rescued by the weak yen and it looks like they may have a good fourth quarter as well," Yuuki Sakurai of Fukoku Capital Management told the BBC.
The Japanese currency has dipped more than 15% against the US dollar since November last year.
A weak yen boosts profits of Japanese exporters such as Panasonic when they repatriate their foreign earnings back home. It also makes Japanese goods more affordable to foreign buyers.
"The hope is that if the yen continues to to remain weak then the losses could be less than what Panasonic had previously forecast," Mr Sakurai added.
The firm has said it expects to make a net loss of 765bn yen for the financial year to 31 March 2013.
Long term concerns
Panasonic has seen its fortunes slide in recent years amid a slowdown in global demand and falling prices for TVs.
To make matters worse, it has also had to face strong competition from rivals, including South Korea's Samsung which has grabbed a big share of the global TV market.
In its latest results, Panasonic said that global demand for flat-panel TVs and digital devices had weakened further.
It said its overall sales in the last quarter fell 8% on the year to 1.8 trillion yen.
Analysts said that the firm had been too reliant on its TV business over the past years, and that it needed to rethink its strategy.
"People are still sceptical if the business model of Panasonic will be successful in the long run," said Fukoku Capital Management's Mr Sakurai.
For its part, Panasonic has been trying to restructure its business. But it has previously warned that the costs related to such moves may be almost 11 times more than previously estimated.
Mr Sakurai added that while the drop in the yen's value was a welcome relief for Panasonic, until it addresses the long term issues, the firm's future remained uncertain.
"If the basis of a profit surge is just the weak currency, then than that is always going to be risky," he said.
"For all you know, the yen could start to rise again and things may be back to square one for Panasonic."