Dutch bank SNS Reaal nationalised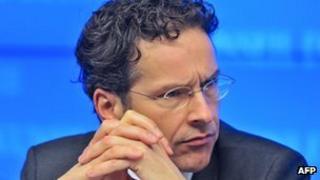 SNS Reaal, the Dutch bank and insurance firm, has been nationalised.
The bank, whose chief executive and chairman have resigned, was this week in talks with private investors about raising capital.
SNS, the Netherlands fourth-largest bank, had been given a 750m-euro (£644m) bailout in 2008.
While SNS's operations were thought to be mostly profitable, its finances had weakened to the point that they were below legal solvency limits.
Although shareholders are likely to lose most, if not all, their investments, retail savers with deposits up to 100,000 euros are protected.
Dutch Finance Minister Jeroen Dijsselbloem told a press conference on Friday: "Today, SNS Reaal has been fully taken over by the Dutch state. Without finding a solution, there was an immediate and dangerous situation for financial stability.
"I had to conclude that nationalisation was inevitable."
Mr Dijsselbloem said the bank's problems stemmed from a decline in the value of its property portfolio.
Ronald Latenstein, the chief executive, and Rob Zwartendiik, the chairman, have stood down.
In January, the European Commission blocked, on competition grounds, a plan by three other Dutch banks, ABN Amro, ING and Rabobank, to help SNS with a capital investment.
The Commission said that ABN and ING had themselves previously received state aid.
.