Thai whiskey tycoon Charoen takes over Fraser and Neave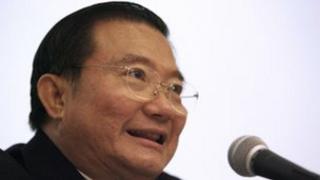 What are the secrets of business success in Thailand?
You could try asking Charoen Sirivadhanabhakdi, the country's third richest entrepreneur, with a net worth of at least $6bn (£3.8bn; 4.4bn euros).
Mr Charoen has just expanded his drinks and property empire after an epic battle to control the venerable Singapore conglomerate Fraser and Neave (F&N).
But this intensely private man rarely makes public comments.
Like almost all of Thailand's tycoons, Mr Charoen is ethnic Chinese. He is the sixth of 11 children of a poor street vendor who migrated to Bangkok from southern China. To this day Mr Charoen speaks Teochew, his native Chinese dialect, as well as Thai.
He left school early, at the age of nine, to work. Eventually he started supplying to distilleries producing the local Thai whiskey, which were a state-run monopoly at the time. Through the contacts he made, he acquired a licence to produce his own alcoholic drinks.
Spirit of success
By the mid-1980s he was operating all the large state-owned distilleries, and controlled the entire market for inexpensive local spirits.
In 1991 Mr Charoen teamed up with the Danish brewer Carlsberg to tap into Thailand's growing beer market, at the time dominated by the 60-year-old Boon Rawd company which made Singha beer.
The idea was that Mr Charoen's brewery would make Carlsberg, and use the sales and marketing networks for his Thai whiskey to sell it. But three years later, based on what he had learned from Carlsberg, he began making his own beer, branded Chang (elephant in Thai).
He made it more potent than Singha, and cheaper, and marketed it very aggressively.
Within five years, Chang had captured 60% of the local market share.
Completely eclipsed, in 2003 Carlsberg pulled out of the joint venture. Mr. Charoen then successfully sued the Danish company, winning $120m.
Crisis and opportunities
The late 1990s threw up two formidable challenges; the 1997 Asian financial crisis, which saw two financial companies part-owned by Mr Charoen collapse, and the government's decision to privatise the state-owned distilleries which were providing him with most of his profits.
But with a cash-rich and relatively recession-proof liquor business he was far better off than many other Thai entrepreneurs. He exploited the crisis and cemented his position as one of Thailand's most powerful figures, buying up land and property at distressed prices, and helping out troubled, but politically-connected businesses that could one day return him favours.
And when the distilleries were put up for auction in 1999, his companies managed to buy all 12 of them. How did he accomplish that? By using his vast stocks of alcohol as collateral, Mr Chareon borrowed $500m. He then ramped up production. The message was clear; he had enough cash to outbid any potential rival (he ended up paying $385m), and he also had enough alcohol in stock to flood the market with cheap booze for months.
He had to "manage competition over the bidding so the auction did not raise the price too high", writes Thai historian Nualnoi Treerat. "This required skills to share the rents with rivals who were too powerful to ignore, the ability to intimidate rivals who were not too powerful, and the judgement to distinguish between the two."
Over the past decade his empire has grown, as he has acquired huge property holdings that include vast tracts of agricultural land, in Thailand and in neighbouring countries like Cambodia, as well as hotels and entire blocks of apartments.
He also bought a controlling stake in an established Thai food and bottling company, Berli Jucker, which he is now using to expand into the convenience store market.
He was briefly in the spotlight when he tried to buy Liverpool football club in 2004, and, when that failed, he inked a sponsorship deal with Merseyside rivals Everton.
But mostly he kept a low profile.
That changed in 2005, when he brought all his various alcoholic drinks businesses under a single name, ThaiBev, and announced he would float it on the Bangkok Stock Exchange. Suddenly Mr Charoen got a lot more publicity than he had bargained for.
Thais have an ambivalent attitude to alcohol. Drinking is not prohibited under Buddhism, but it is frowned upon by many Thais as not socially respectable, and a threat to family life.
One ascetic Buddhist sect organised protests against the ThaiBev stock listing, some outside Mr Charoen's home in Bangkok, which escalated to the point where he was forced to shift the listing to Singapore. A second attempt to list in Bangkok in 2008 also failed.
Family business
Mr Charoen runs ThaiBev and its parent company TCC in much the same way as Thailand's other Chinese tycoons - as a strictly family business. And it is probably no coincidence that he has begun expanding overseas and becoming more 'public' just as his five children have come of age and can start running the different parts of his empire.
All five have benefited from top educations overseas, but have come back to live with their father and mother in a 10-storey family compound in central Bangkok.
His son Thapana is now the chief executive officer at ThaiBev and his daughter Wallapa is executive director of TCC Land, the property arm. She admits he acquired so much land and property over the years he does not actually know what he owns.
But Charoen Sirivadhanabhakdi was certainly involved in the key decisions during the six-month battle for Fraser and Neave. It was a contest that required all the skills learned over 50 years in Thailand's treacherous business environment, of patience and ruthless determination to win the prize.
Now he has it, he has become a significant regional player, one of a growing club of Thai entrepreneurs moving from domestic success onto a tougher and more sophisticated global stage.