Jessops brand sold to Dragons' Den's Peter Jones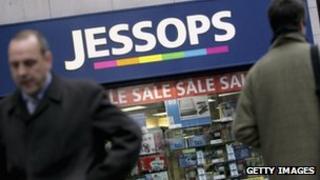 The collapsed High Street camera retailing brand Jessops has been bought by a group including entrepreneur and Dragons' Den star, Peter Jones.
The company's administrators PricewaterhouseCoopers (PwC) announced the sale on Thursday evening.
PwC said: "We can confirm we have sold the brand and certain other assets to a number of buyers including entrepreneur Peter Jones CBE."
It is not currently thought that stores will reopen as part of the purchase.
The part of the deal covering "certain other assets" is understood to mean leftover stock and intellectual property.
Intellectual property includes things like trademarks and patents.
The amount paid to take control of the brand has not been disclosed.
When Jessops collapsed earlier this month it closed its 187 branches with the loss of 1,500 jobs.
The firm had suffered in recent years due to competition from online retailers.
Founded in Leicester in 1935 by Frank Jessop, the camera chain became the first High Street casualty of 2013.
In 2009, it had managed to avoid administration by agreeing to give some of the company to HSBC in exchange for reducing its debts. Its shares were taken off the stock market as a result.
Last week it was revealed that the restructuring specialist Hilco had been in discussions with the administrators about acquiring the Jessops brand.
Mr Jones made his wealth in mobile phones, and has been an ever-present on the BBC's Dragon's Den programme since it started in 2005.
His personal website refers to him as having a "non-stop enthusiasm for innovation and fresh approaches to established industries".