AstraZeneca drugs sales fall as patents expire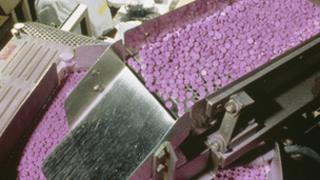 Shares in AstraZeneca have fallen 4% after the drugs company announced a drop in sales and said that the tough conditions would continue.
Sales in the last three months fell 16% to $7.28bn, as the firm continues to suffer an erosion of business due to the expiry of patents on its drugs.
AstraZeneca says earnings will decline "significantly more than revenue" this year as operating costs rise.
The figures reflect tough market conditions, the company said.
The difficult trading conditions were underlined by AstraZeneca's decision not to increase dividend payments for the second half of 2012, analysts said.
Chief executive Pascal Soriot said in a statement: "Our performance in 2012 reflects a period of significant patent expiry and tough market conditions globally."
He joined the company from rival Roche in October, and in March is due to set out his strategy for the business. There has been speculation that Mr Soriot may be looking at a big acquisition over the next few months.
AstraZeneca has faced the loss of exclusivity on its best-selling medicines and a thin pipeline of new drugs coming to market.