Honda sees quarterly profits rise but cuts annual forecast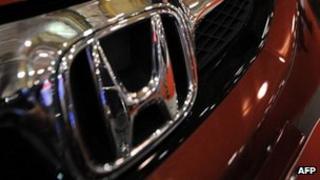 Japan's Honda has reported a jump in third-quarter profits as US sales recover, but cut its annual forecast as sales in China and Europe drop.
Honda's profits hit 77.4bn yen ($851m; £538m) in the last quarter of 2012, up from 47.6bn yen a year earlier.
The firm said profits had also been boosted by a continued recovery from the floods in Thailand in 2011.
However, it cut its full-year profit forecast to 370bn yen, compared with its previous projection of 375bn yen.
It is the second time in a space of four months that the firm has lowered its full-year profit forecast. In October, Honda had cut its projection to 375bn yen from its earlier forecast of 470bn yen.
Growth hurdles
Natural disasters in Thailand and Japan in 2011 had halted production Honda's factories and impacted its sales.
However, it has seen a steady recovery since then. Earlier this week, it reported record sales of 3.82 million vehicles for 2012, a jump of 19% from a year earlier.
But the firm is also facing some growth hurdles, not least from the continuing sovereign debt crisis in the eurozone.
The crisis has hurt region's growth and dented sentiment resulting in a drop in consumer demand in the region's countries.
That has, in turn, affected demand for Japanese goods in the region.
Honda's sales to Europe dipped 87% in the October to December quarter, from a year earlier.
At the same time, the firm has also been hit by the territorial dispute between Japan and China.
The spat, which flared up in September last year, resulted in protests in China which targeted Japanese brands. That has resulted in a drop in Honda's sales to China, the world's biggest car market.
The carmaker said its sales to China dipped 68% in the three months to the end of December, from a year earlier.