Philippines beats growth target as economy expands 6.6%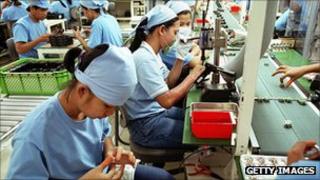 The Philippines has posted better-than-expected economic growth, boosted by the strong performance of the country's services sector.
Its economy grew 6.6% in 2012, the statistical bureau said, beating the government's target of 5 to 6% growth.
The bureau added that a "substantial improvement" in manufacturing and construction sectors also aided growth.
Strong domestic demand has helped cushion the impact of a global slowdown on the Philippines' economic growth.
"The pace of Philippine growth has consistently surprised on the upside in the past year, as the economy displays resilience against global headwinds and is driven primarily by domestic engines," said Radhika Rao, an economist with Forecast Pte.
Continued growth?
The country's central bank also cut interest rates four times in 2012, in an attempt to boost domestic consumption and sustain growth.
The central bank's last cut, in October, saw its key rate dip to an historic low of 3.5%.
Earlier this month, the International Monetary Fund (IMF) revised its growth forecast for the Philippine economy to 6% for 2013, up from 4.8%.
The IMF cited strong domestic demand and higher public spending as the reasons behind the upgrade.
The country has been one of the best performing economies in the region and analysts said it was likely to see strong growth in the coming months.
"The strength in overseas remittances will continue to be good for the country, and the expected recovery in the export market would mean that growth would be sustainable for the next two to three years," said Enrico Tanuwidjaja, an economist with Royal Bank of Scotland.