Dreamliner: Boeing defends 787 batteries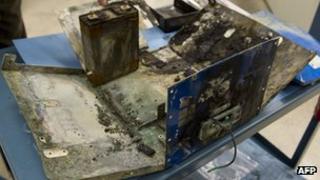 Boeing has backed the battery used in the Dreamliner after Japan Airlines and All Nippon Airways said they changed a number of them in the past few months.
Battery problems have led to the grounding of the entire fleet of 787s.
Boeing said while the replacement rate was "slightly higher" than usual, the changes were "routine maintenance" and were not due to any safety issues.
The airline backed the battery as it reported record revenues of $22bn (£14bn) for the last quarter of 2012.
But its net income dropped 30% from a year ago, when it benefited from an unusually low tax bill, to $978m.
While the latest quarterly results pre-date the grounding of the fleet, there have been concerns that the move may hurt its earnings in the near future.
Those fears grew after Boeing cancelled the deliveries of planes in the wake of the battery problems.
However, the planemaker, which has orders for more than 800 Dreamliners, said the issue had not affected its production plans.
It said it had not asked any of its suppliers to slow down deliveries of parts.
Jim McNerney, chief executive of Boeing, said that it was "business as usual", adding that the firm planned to go ahead with a planned ramp-up in production.
"Our plan is to continue production of the 787 and to continue the development of the wide-body airplanes," he added.
'Feel good'
The Dreamliners were grounded after a battery in a Japan Airlines 787 plane caught fire in Boston, while an All Nippon Airways flight was forced to make an emergency landing because of a battery malfunction earlier this month.
On Wednesday, All Nippon Airways said it had replaced batteries 10 times over the past few months, while Japan Airlines said it had done so in a "few cases" over the past few months.
Boeing said that it was carrying out an investigation to find out what caused the battery malfunctions.
"Nothing that we have learned has told us that we have made the wrong choice on the battery technology," said Mr McNerney.
"We feel good about the battery technology and its fit for the airplane.
"We have just got to get to the root cause of these incidents and we will take a look at the data as it evolves, but there is nothing that we have learned that causes us to question it at this stage."
The incidents have also prompted authorities in both the US and Japan to launch inquiries to try to find out what caused the battery problems.
But earlier this week, Japan's transport ministry said that safety inspectors had found no faults with the battery, leading to concerns that the planes might remain grounded for a while as further investigations may be needed to sort out the issue.