China's Wanxiang wins approval to buy US battery maker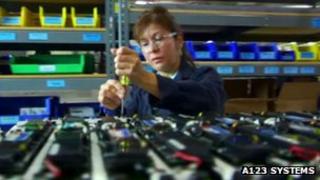 China's Wanxiang Group has won the approval of US authorities to buy battery maker A123 Systems.
Wanxiang, China's biggest auto parts maker, offered $257m (£163m) to buy almost all of A123's assets after it went bankrupt last year.
The deal had been under review amid concerns that US technology would be transferred to foreign firms.
Some US lawmakers also opposed the deal arguing that A123 had developed its technology using government grants.
However, the Committee on Foreign Investment in the US (CFIUS) granted its approval for the deal to go ahead.
Pin Ni, president of Wanxiang America, said the firm was looking forward to "closing the transaction and to continuing to foster the technologies A123 has worked so hard to develop".
Security concerns
One of the fears surrounding the sale of A123 concerned its government contracts, under which the firm supplies batteries to the US military.
However, Wanxiang had excluded the firm's government business from its bid.
That business unit was sold separately to US firm Navitas Systems for $2.25m.
"There is no question that CFIUS process is there to fully protect national security issues and we are glad that we could have addressed all the concerns CFIUS has," said Mr Pin of Wanxiang America.
But some lawmakers criticised the approval arguing that the key point was the fact that other countries were getting access to technology developed in the US.
"Technology produced by A123 and funded by US taxpayers should not simply be shipped off to China so that the military applications for these materials can be reproduced abroad," Senator John Thune, a Republican from South Dakota, said in a statement.
"Senator Chuck Grassley and I remain concerned about the national security implications of this transaction and have called on CFIUS for a full briefing of the review," he added.