Amazon announces lower profits in 'transition' period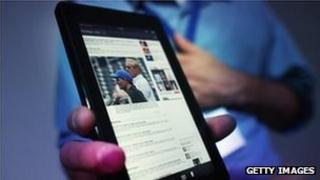 The online retailer Amazon has announced a sharp fall in profits.
Net income for the three months to the end of December was $97m (£61.5m), down from $177m for the same period in 2011.
The fall came despite an increase in revenues during the period, from $17.43bn a year ago, to $21.27bn, a jump of 22%.
That growth came as the world's largest internet retailer bagged a big share of internet spending during the crucial holiday period.
In after-the-bell trading, Amazon's shares rose by close to 7%.
"We're now seeing the transition we've been expecting," said Jeff Bezos, founder and chief executive of Amazon.com.
"After five years, e-books is a multi-billion dollar category for us and growing fast - up approximately 70% last year.
"In contrast, our physical book sales experienced the lowest December growth rate in our 17 years as a book seller, up just 5%.
"We're excited and very grateful to our customers for their response to Kindle and our ever-expanding ecosystem and selection."
The Seattle-based company also said operating income increased by 56% to $405m in the fourth quarter.
"The fourth-quarter operating income was up more than expected," said RJ Hottovy, an equity analyst at Morningstar.
"This supports the bull case that Amazon can monetise its growth over the longer term."