US housing recovery gains steam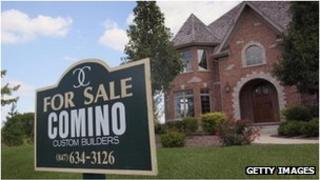 The US housing market rebound gained steam in November, new data suggests.
House prices were 5.5% up on a year ago, according to the widely-watched Case-Shiller index, the fastest rise since the market crash began in 2006.
However, separate data suggested US consumer confidence took an unexpected knock in January, as rises in income and payroll taxes came into effect.
The Conference Board's Consumer Confidence Index fell sharply to 58.6 in the month, from 66.7 in February.
It was the lowest reading in more than a year. Analysts had been expecting a level of about 64.
"Consumers are probably pretty unhappy to notice that their payroll taxes have gone up," said David Sloan, an economist at New York-based researchers 4Cast.
The tax increases were part of a package agreed between Republicans and Democrats in Congress on the eve of the "fiscal cliff" - a far more draconian set of tax rises and spending cuts that had been due to take effect on 1 January, had no deal been reached.
Besides their diminishing take-home pay, the data suggested that US citizens were also worried that jobs were becoming harder to find.
Wall Street took the disappointing consumer confidence data in its stride on Tuesday. Stocks have enjoyed one of their most buoyant starts to a year - with the S&P 500 Index up 7% since the end of December - in large measure because of optimism about the housing market.
The Case-Shiller data adds to evidence that the market has turned the corner. Other data has shown sales of already occupied homes on the rise, while the inventory of unsold homes is back at pre-crisis lows.
Of the 20 cities tracked by the Case-Shiller index, only New York saw a moderate fall in house prices since a year earlier, down 1.2%.
Phoenix in Arizona saw a 23% jump in prices, while San Francisco and Detroit also experienced rises in excess of 10%.
However, the market is still far from fully recovered. Prices remain 30% below their 2006 peak, according to Case-Shiller, while home sales and house-building activity both remain heavily depressed compared with a decade ago.