Petrol prices: OFT to publish fuel market findings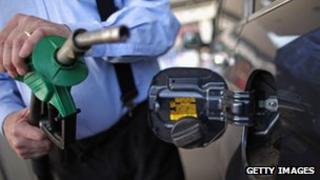 A study of the competitiveness of the UK petrol and diesel market is due to be published later.
The Office of Fair Trading will publish its initial findings and announce whether it is going to launch a full investigation.
The investigation into the £32bn sector was launched in September last year.
Among the areas it looked into was whether petrol and diesel prices reacted appropriately when crude oil prices dropped.
It also questioned whether supermarkets or big oil companies were behaving in ways that made it more difficult for independent retailers to compete with them.
And it looked into whether there was enough competition between fuel retailers in remote areas.
Since September it has been hearing evidence from trade bodies, government and regulatory organisations, consumer bodies and motoring groups.
The findings are due to be published at 10:30 GMT.
'Fair pricing'
The call for information followed a complaint from the Retail Motor Industry Federation (RMI), which alleged that big supermarkets were selling petrol at below cost, subsidised by their grocery sales.
The RMI, which includes the Petrol Retailers Association, also said that big oil companies had been selling petrol and diesel on their own forecourts at close to the wholesale price at which they sold it to independent retailers.
The OFT provisionally decided in April 2012 not to investigate the sector, but then decided to call for submissions in September.
"This market has been hiding itself in the long grass for far too long and consumers have a right to transparency, honesty and fair pricing," said Quentin Willson, spokesman for the pressure group FairFuelUK.
"We want to know how wholesale prices are calculated, why wholesale prices move, why it takes so long for falls in crude oil to appear at the pumps, why diesel is so much more expensive than unleaded and why some fuel retailers can charge up to eight pence more per litre than others often in the same area."