Peugeot Citroen job cuts plan suspended by French court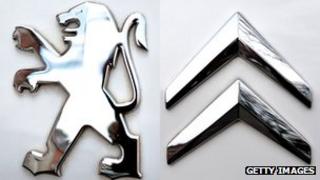 A court in France has suspended the restructuring plans of Peugeot Citroen, saying the carmaker had failed to consult some of its employees properly.
The plans are controversial in France, as they involve 8,000 job cuts in the country and closure of a Paris factory.
Peugeot said it would continue to negotiate the cuts with unions, despite the Paris appeal court ruling delaying their implementation.
The ruling upheld complaints by workers at parts-supplier subsidiary Faurecia.
The CGT union successfully argued that Peugeot had not fulfilled legal obligations to notify the worker committees at two Faurecia sites that are likely to be affected by the planned closure of the carmaker's factory at Aulnay, near Paris.
Peugeot had hoped to complete the restructuring by March. It said it would go ahead with planned negotiations with the company's main workforce in February, and would initiate talks with Faurecia workers as soon as possible.
The French government called on Peugeot last year to scale back its plans.
However, the company, like of all its European rivals, faces a depressed home market. Car sales in the EU fell 8.2% last year from 2011.