QE leaves firms with pension bill, MPs told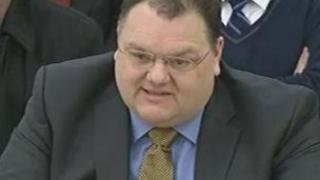 Companies are having to fill pension deficits resulting from the Bank of England's policy of quantitative easing (QE) instead of growing their business, MPs have been told.
QE has reduced the returns on pension investments, helping to push final-salary schemes into large deficits.
The pension funds trade body said QE had caused a £90bn effect on these defined benefit schemes.
MPs also heard that QE was an "utter disaster" for savers.
Economic 'strength'
Under QE, the Bank of England has so far pumped £375bn into the economy by buying government bonds currently in issue.
This has driven up their price and reduced their return, or yield. The knock-on effect is an increase in the estimates that pension schemes must make of the assets they need to hold, in order to pay all their future pension payments in the future
Mark Hyde-Harrison, chairman of the National Association of Pension Funds (NAPF), told the Treasury Committee that regulations were not flexible enough for companies to avoid having to fill these deficits. Companies did not have the chance to use this money to strengthen the business or invest, which would help the economy and individuals.
"A strong economy and strong companies produce good pension funds," he said.
Pensions expert Ros Altmann later suggested to MPs that the devaluation of pensions had been "overlooked" in the QE programme. The long-term savings schemes had been distorted in the short-term by QE.
She added that those who had bought annuities recently had also been hit by QE. An annuity provides a pension income for the rest of somebody's life and can only be bought with a pension pot once.
Simon Rose, of the Save our Savers campaign group, said that QE and low interest rates had reduced the interest rates paid to savers, although those with stocks and shares Isas (Individual Savings Accounts) would have benefitted.
The Bank of England has defended its QE policy on several occasions.
It has argued that without QE, savers, including pension funds, would now be worse off because their other assets such as shares would probably be much lower in value than is the case.
The Bank has also argued that QE has been the main factor staving off a much deeper recession than the one the UK has experienced since 2009.