Chinese brands tap Hollywood in quest to go global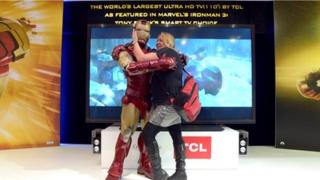 When Iron Man 3 is released this spring, moviegoers eager to see the latest adventures of Robert Downey Jr's playboy superhero may catch a glimpse of a 110in giant TV screen made by Chinese consumer electronics company TCL.
The film will also feature TCL phones and a scene where the Chinese Theatre on Hollywood Boulevard is blown to smithereens. The landmark, which hosts many a red-carpet premiere, has just been renamed TCL Chinese Theatre as part of a 10-year $5m (₤3.2m; 3.72m euro) deal.
"TCL has attached great importance to the collaboration with Hollywood," said Li Dongsheng, TCL's chairman, when the product placement deal was announced in January.
His company is one of a growing number of Chinese corporations using Hollywood's marketing machine to promote their products to a global audience.
Others are hitching their wagon to European football teams or the National Basketball Association (NBA) in the United States.
It is an expensive strategy but one they hope will turn Chinese consumer brands into household names that trip off the tongues of shoppers worldwide.
Double whammy
Hollywood is particularly appealing for Chinese brands because it allows them to raise their profile in the global marketplace but, equally, it plays well at home, says Patrick Frater, the chief executive of Film Business Asia.
Often the Chinese brands and products featured in Hollywood movies are not available outside their home market.
For example, in 2011's Transformers: Dark Side of the Moon, Shia LaBeouf wears a T-shirt made by Chinese clothing maker Metersbonwe and, in one scene, a character drinks a carton of Shuhua milk made by dairy group Yili.
"I don't know whether this means anything to international audiences… but in a way that is not really the whole point," Mr Frater says.
"The point is to establish to Chinese audiences that this is a big brand, big enough to be in Hollywood movies."
The same factor is at play for soft drinks maker Wahaha, which, along with China Construction Bank, announced in January that it was sponsoring Premier League football team Manchester United.
"I think it's one of the greatest soccer teams in history and it's wildly popular in China," says Lyndon Cao, Director, China Practice, Ogilvy & Mather Worldwide.
"Chinese brands going global want to see some repercussions back home. They have their own agenda," says Mr Cao, who is based in New York.
Some Western brands like BMW and Coca Cola have entered product placement deals with Chinese film directors, but navigating the the country's film industry can be tricky.
Films released in China are subject to censorship as the makers of the latest James Bond film discovered when a key scene was deleted and dialogue altered in Skyfall for its China release earlier this month.
Limelight
Once content to be "hidden dragons", toiling in the shadow of high-profile multi-national clients, Chinese companies are seeking the global limelight for a number of reasons.
While buoyant compared with much of Europe and the US, China experienced its slowest growth in 13 years last year prompting many companies to look for new revenue streams, says Shaun Rein, the managing director of the China Market Research Group.
Some are taking their own brands overseas, while others are picking up established Western brands.
The latter tactic is particularly favoured by Chinese property developers, which have also been constrained by government limits on real estate.
China's Wanda Group bought US cinema chain AMC last year, while Fosun Group has made investments in holiday group Club Med and Greek luxury jewellers Folli Follie.
Ego is also at play, says Mr Rein.
"Entrepreneurs are very aggressive and ambitious. They want to become global brands and they want to be a global brand now."
"They are not quite as patient as Japanese and Korean firms were."
And the international aspirations of China's corporate elite have been quietly encouraged by Beijing, which is keen to be seen to have companies that compete at the multinational level.
Challenges
Despite their ambition, there are few examples of Chinese companies that have truly succeeded as a consumer brand outside their home market.
Appliance maker Haier has found a niche selling dorm-sized refrigerators in the US.
Lenovo's products are sold worldwide, although its brand recognition was helped by its purchase of IBM's ThinkPad brand in 2005.
Li-Ning, which wishes to compete with Nike and Adidas, has struggled despite its sponsorship of NBA stars.
Mr Rein said that customers might still pick an Apple or a Sony for other reasons: "Can they [Chinese companies] really back up their claims of coolness? I am not sure they can."
Fertile ground
Mr Cao at Ogilvy believes that the leading Chinese brands will become global names in the next 10 years just as Japanese brands such as Toshiba or Fujitsu, that once seemed strange to Western ears, now no longer raise eyebrows.
However, he says Chinese companies may not necessarily do this by competing in mature markets like the US and Western Europe, where regulation and distribution is more challenging.
"I believe at this moment some of the most fertile ground for becoming a global brand in China will be emerging markets," says Cao, who recently advised state-owned carmaker JAC Motors on its Brazil expansion.
"They should seize the moment and reach out and compete against some of the established brands in this market and I believe they stand a good chance of winning there."
It is a stretch to imagine that consumers will clock the strange logos cropping up in the latest Hollywood blockbuster and rush out to buy a TCL phone or Metersbonwe T-shirt, especially when such products are not widely available.
But building a global brand is a long game and it is clear that it is a task that Chinese companies are taking seriously.
"It's going to be a slow process," says Mr Rein. "I mean it took decades for Toyota and Sony to become viewed as anything other than (makers of ) cheap trinkets.
"But you are going to see more Chinese brands penetrating the everyday lives of European and American consumers."